---
CORAFOAM® Special foams represents the cutting edge of our polyurethane/polyisocyanurate (PUR/PIR) foam production. Every one of them is a uniquely developed polyurethane foam that contains our best know-how in order to solve a particular problem.
One example of our Special Foams is CORAFOAM® PB 50 M1-HC, the most reliable PIR (polyisocyanurate) foam approved in extreme cryogenic applications.
Developed in 2003 to face the ban of HCFC blowing agents in the European Union, this polyisocyanurate (PIR) foam rapidly became a key product for the insulation of LNG Terminals worldwide thanks to its excellent insulation performance at the working temperatures of these plants (-165°C to +40°C).
The R&D of PB 50 M1-HC has focused on the most strict insulation specifications for industrial plants including CINI 2.07.01 and SHELL DEP 30.46.00.31, which our polyurethane and polyisocyanurated foams fully comply with.
This special polyisocyanurate foam is supported by a complete set of independent laboratory certifications, and has been successfully installed in various LNG plants, including:
Sakhalin II (Russian Federation)
South hook (UK)
Guang Dong (PRC)
Arzew LNG (Algeria)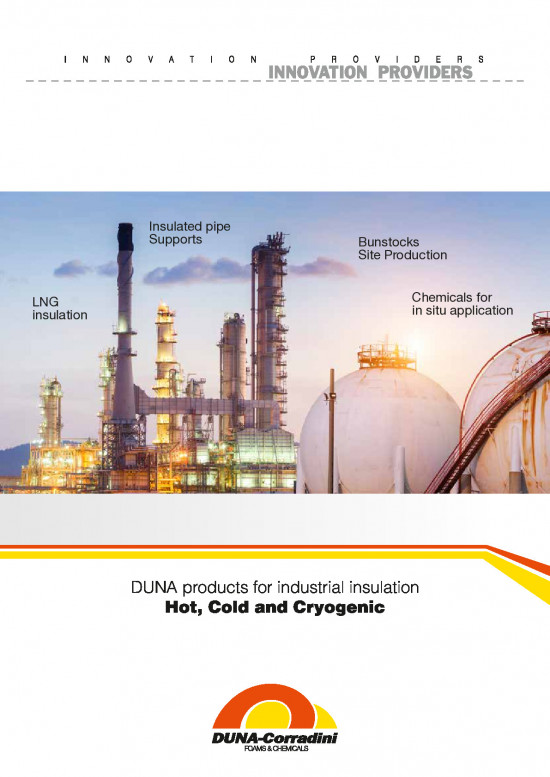 Together with our polyurethane/polyisocyanurate (PIR/PUR) foams, we also offer a service to produce our polyurethane foam in the most faraway places in the world: PEGASUS Mobile Foaming Units, machines that can be easily shipped and transported in containers.
PEGASUS machines are not designed for sale, our technicians take our technology abroad and operate the units, so that both production of foam and supervision remain under the strict control of DUNA-Corradini, assuring the best quality of foam wherever it is needed.
Another example of these very special polyurethane foams is the Fiberglass Reinforced Foam (CORAFOAM® RV), which combines extreme lightness and insulation with very strong resistance.
CORAFOAM®
Density (kg/m³)
Initial thermal conductivity at 10°C (mW/mK)
Parallel compressive resistance at 23°C (MPa)
Fire behaviour
Operating temperatures (°C)
EN 1602
ASTM D1622
EN 12667
ASTM C 518
EN 826
ASTM D1621
PB 35 M1-HC
35,0
20,9
0,3
DIN 4102 Class B2
EN 13501 Euroclass E
-200/+120
PB 40 M1-HC
40,0
20,9
0,3
DIN 4102 Class B2
EN 13501 Euroclass E
-200/+120
PB 45 M1-HC
45,0
20,9
0,4
DIN 4102 Class B2
EN 13501 Euroclass E
-200/+120
PB 50 M1-HC
50,0
20,9
0,4
DIN 4102 Class B2
EN 13501 Euroclass E
-200/+120