DUNA AND THE UPCYCLING: CORALIGHT®600 TOOK THE STAGE AT ANPE CONFERENCE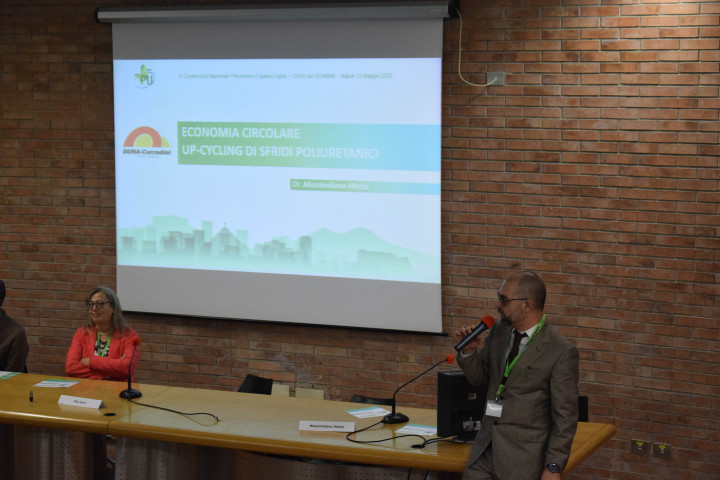 ---
13.05.2022
The DUNA GROUP protagonist at the 5th ANPE Conference "TODAY FOR TOMORROW" sponsored by the Ministry of Ecological Transition. The ZERO WASTE project and the new CORALIGHT®600 boards made by UPCYCLING have been presented as a virtuous case study of circular economy


On Thursday 12 May, the DUNA GROUP has been selected as main speaker at the 5th Conference "TODAY FOR TOMORROW", organized by ANPE, the National Association of Polyurethane Foams at the Città della Scienza Congress Centre in Naples, under the patronage of the Ministry of Ecological Transition, to raise awareness among sector professionals on Sustainability, sustainable technologies and environmental safety of industrial processes.

The DUNA GROUP was invited to present its ZERO WASTE project and all the investments and innovations made to ensure the sustainability of its business activities. These include the new industrial UPCYCLING plant, inaugurated at the Soliera Headquarters in November 2021, aimed at enhancing the secondary products of polyurethane and achieving a full circular economy

Thanks to the UPCYCLING of polyurethane scraps, the DUNA GROUP is able to offer CORALIGHT ® 600, a high-performance product, composed of 87% recycled polyurethane. The new CORALIGHT® 600 boards ensure a high aesthetic value and excellent performances in terms of resistance, low water absorption, workability and insulation capacity, finding several applications in construction, structural reinforcement, cold chain and technical furnishing.

"With the ZERO WASTE project, the DUNA GROUP realizes the true circular economy, a "subversive" concept that aims to transform waste into a new resource with a higher value compared to initial one" summarizes Massimiliano Motta, R&D Manager of DUNA CORRADINI and speaker during the 5th ANPE Conference "The new UPCYCLING plant allows us to recover the polyurethane processing scraps, minimizing the consumption of raw materials and overcoming the difficulties and inefficiencies typical of traditional recycling processes of plastic materials, energy-intensive and polluting"

The DUNA GROUP is proud to have been chosen by ANPE as a virtuous example of Innovation aimed at Sustainability and to had the chance to describe its challenging ZERO WASTE project to all professionals present at the Conference

GO DUNA!



Besoin d'
assistance technique

pour la sélection des produits?
Vous souhaitez demander un

devis

?
Voulez-vous envoyer un

e-mail

?