DUNA AT GASTECH 2023: THANKS FOR COMING!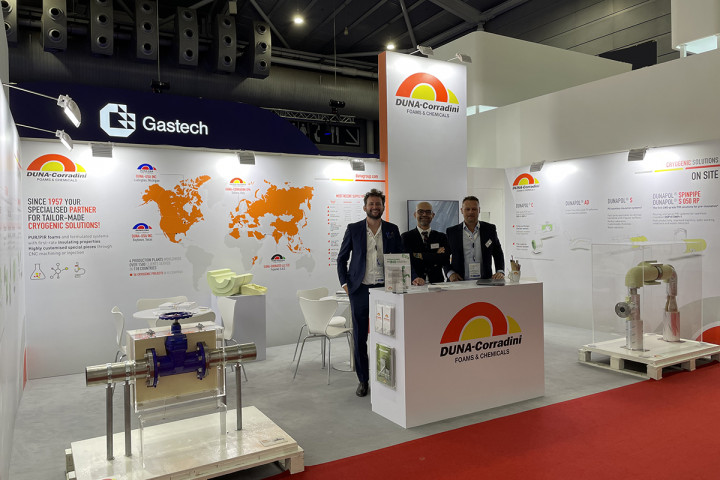 ---
09.09.2023
Great turnout at GASTECH SINGAPORE 2023, the International LNG Trade Fair held from 5 to 8 September to discuss the latest solutions for cryogenic insulation developed in response to energy crisis, geopolitical tensions and environmental emergency. The DUNA Group has taken the stage with its comprehensive range of foams, systems and tailor-made solutions designed for maximum performance, efficiency and sustainability in OIL & GAS projects.


Impossible for the DUNA Group to miss GASTECH 2023, the most important international trade fair for the LNG sector, held from 5 to 8 September in Singapore. Ever since a fundamental moment of meeting with Gas sector's professionals, this year GASTECH has taken on even greater importance in light of the current geopolitical crisis and the growing uncertainty about energy supply and costs.

Specialized in the supply of foams and PUR/PIR systems for insulation at cryogenic temperature and already a partner of main LNG/LPG projects worldwide, the DUNA Group had the pleasure to meet the industry key players, presenting the latest solutions developed for LNG applications and gathering the new demands and inspirations that will guide the Group's R&D efforts in an even more targeted way.

On our Stand, we welcomed international visitors with full-scale models, PUR/PIR solutions and special parts developed for the thermal insulation of plants operating at cryogenic temperatures, notably those for the extraction and distribution of liquefied natural gas. Among the DUNA proposals in Singapore, both FACTORY-MADE solutions, such as the PIR and PUR CORAFOAM® foams and the DUNAPAP secondary vapor barrier, manufactured in the 4 production plants of the DUNA Group to supply LNG sites worldwide, and ON-SITE systems, produced on demand for an in situ application, such as DUNAPOL® SPINPIPE and DUNAPOL® S 050 RP, innovative PIR systems for cryogenic pre-insulation, DUNAPOL® C, casting PUR systems available in customizable formulations, and the DUNAPOL® S range, spray PUR systems for insulation and structural reinforcement.

Ever since attentive to the LNG sector's demands for sustainability and innovation, the DUNA Group previewed at Gastech 2023 the new CORAFOAM® PB BIO line, the new PIR foams with reduced environmental impact (for equal performance), made with up to 70% carbon from renewable sources.

While geopolitical tensions and environmental transition push us to look at new increasingly efficient and sustainable products, optimizing thermal insulation and maximizing durability of extraction, storage and distribution plants are now primary goals, made possible with the support of DUNA solutions and technical know-how.

Once again GASTECH proved to be a fundamental moment of exchange and stimulus: thanks to all those who passed on our Stand and an invitation to relive DUNA stands and products through our Gallery
Besoin d'
assistance technique

pour la sélection des produits?
Vous souhaitez demander un

devis

?
Voulez-vous envoyer un

e-mail

?