JEC WORLD 2023: RELIVE DUNA STAND AND NEWS!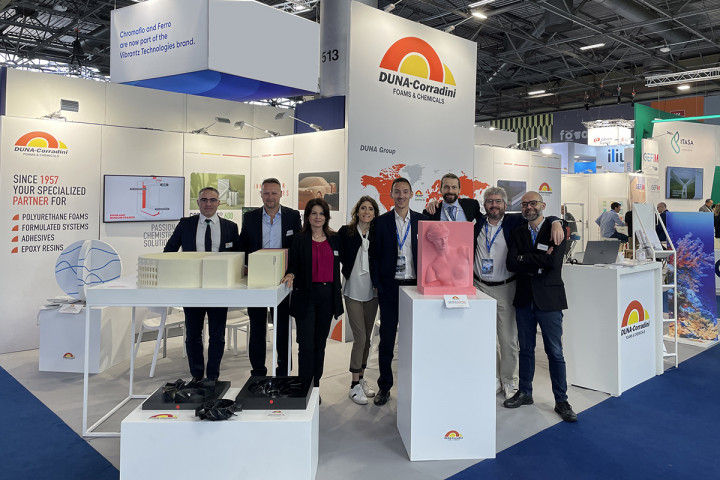 ---
28.04.2023
Great international attendance and lot of news at JEC WORLD 2023, the World Exhibition dedicated to the Composites sector: discover the Stand and all the PUR solutions presented by the DUNA Group in Paris this year


Once again the DUNA Group has taken the stage at JEC WORLD 2023, the World Exhibition dedicated to Composites, held from 25 to 27 April 2023 at the Parc d'Expo Nord Villepinte in Paris. JEC World has always been an unmissable event to meet industry professionals and present all the foams, systems and solutions developed by DUNA for the Composites sector. On our Stand, totally renovated again this year, we have welcomed and amazed international visitors with various creative installations, chosen to enhance our latest products.

The new CORALIGHT®600 boards, in high density PUR made by Upcycling of DUNA production scraps, have been reinvented in the form of a statue of Planet Earth, capable of rotating thanks to the visitor's interaction. A small-scale reproduction of the artwork "Regeneration", one of the winning projects of the "Mirio & Silla" 2022 Competition (III Ed. "The Sustainable Beauty of Art") in collaboration with Brera Academy of Fine Arts, this interactive sculpture was selected to communicate the Green commitment of the DUNA Group and to invite guests to take concrete actions to mitigate the current environmental emergency.

Absolute novelty of the DUNA catalogue and protagonist on our JEC Stand has been then CORAFOAM MD 600, the latest addition to the CORAFOAM® high density range (80-600 kg/m3), the PUR and PIR foams designed for modeling, prototyping and tooling. Highest density ever achieved through in-continuous production process, CORAFOAM® MD 600 ensures maximum workability, mechanical strength and stability for precision machining. Thanks to its decidedly eye-catching color, CORAFOAM® MD 600 has attracted the curiosity of JEC visitors as a famous artistic piece, the bust of the Venus of Milo, made from a block milled with our cutting-edge CNC machines.

To display DUNAPOL® T, the renewed range of STYRENE-FREE high density PUR systems for structural reinforcement, we finally proposed a slabs with a suggestive sea floor graphics: styrene-free, solvent-free and low VOC, DUNAPOL®T represents the sustainable alternative to traditional reinforcement, including for laminates.

Once again JEC WORLD confirmed itself as un unmissable event, full of inspirations, contacts and satisfaction: thanks to all those who came visit us at the Fair! For those who missed it, here the Gallery with DUNA stands and best moments


Besoin d'
assistance technique

pour la sélection des produits?
Vous souhaitez demander un

devis

?
Voulez-vous envoyer un

e-mail

?