SUSTAINABLE ART COMES TO LIFE IN DUNA!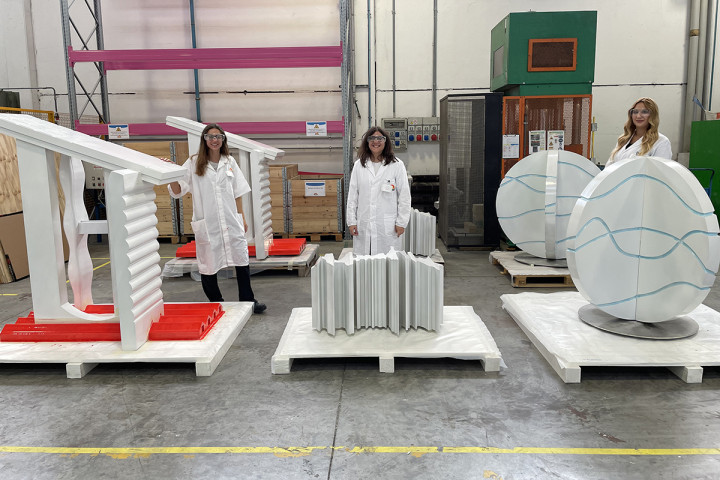 ---
18.10.2022
From 11 to 13 October, the DUNA Group had the pleasure to host in its Headquarters in Soliera, the winners of the III Edition of "Mirio & Silla" Competition, organized in collaboration with Brera Academy of Fine Arts, called to complete their sustainable works of art in duplicate.

Dedicated to the theme of Sustainability, this III Edition invited the students of the II Year of the Faculty of Sculpture of Brera to design eco-friendly works of art, using as application material CORALIGHT®600, the new DUNA high density polyurethane boards produced by UPCYCLING.

In the previous weeks, the DUNA Team took care of the realization of the artworks in duplicate, made through cutting-edge 5-axis CNC machines. During their stay in DUNA, the artists Michela, Aurora and Caterina undertook the completion of their works through manual sanding and painting.

To ensure full sustainability and professional durable finish to the sculptures, DUNA Corradini provided beyond CORALIGHT®600 also DUNAPOX SEA 125, a solvent-free and low VOC epoxy sealer, and castor oil-based adhesives

Thanks to the commitment and joint effort of the artists and the DUNA Team, the works of art were completed in duplicate on schedule. In the coming weeks, the artworks will be installed in the DUNA Corradini Headquarter and in the spaces of the Brera Academy in Milan, waiting for the final Award Ceremony on December 2022

Once again the visit of the Brera winners in DUNA gives the opportunity to Art and Industry, to Beauty and Technology to meet and collaborate: the 3 works of art proves how this 2 apparently opposite worlds are in reality similar in creativity and effort, able to dialogue to give life to beautiful and totally sustainable masterpieces!

A heartfelt thanks to the artists and all DUNA Collaborators for their commitment and enthusiasm
Stay tuned for the launch of the dedicated video and catalogue and do not miss the final Awards Ceremony
In the meantime, discover more on the 3 winner projects of the III Edition here


Besoin d'
assistance technique

pour la sélection des produits?
Vous souhaitez demander un

devis

?
Voulez-vous envoyer un

e-mail

?