TEO obtains the TÜV compostability certification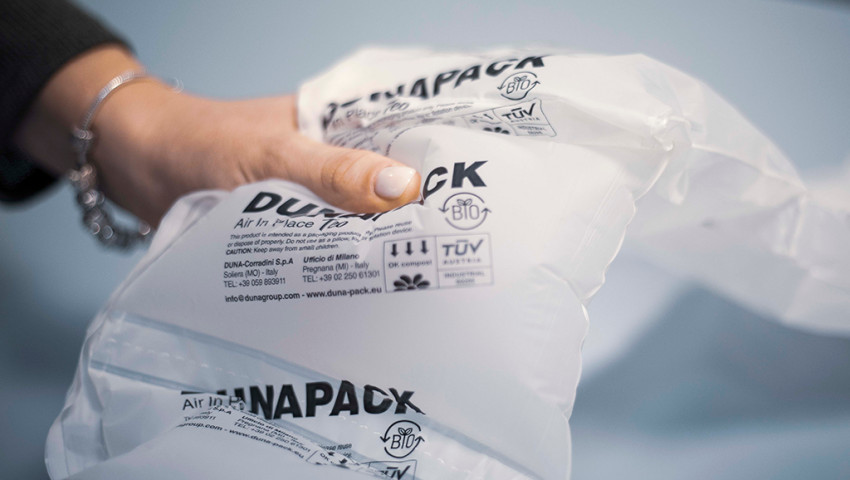 ---
15.07.2019

DUNAPACK, is a division of DUNA-Corradini for the design and production of filling/protective systems for packaging, traces the direction of innovation thanks to the TEO film, which is now certified with the "OK Compost" brand by TÜV, helping to raise the reference standard in the entire sector.

It is difficult to imagine the modern world without plastic; however, the all too frequent bad management at the end of life of this material, which is so versatile, and in many ways miraculous, comes into conflict with the growing propensity to adopt lifestyles with low environmental impact. An interest on the part of consumers for alternative materials more eco-sustainable is constantly increasing.

One of the most promising solutions to this problem lies in bioplastics: biodegradable or compostable polymers which, if properly disposed of, do not constitute waste but a resource that is integrated into the cycle of nature.
Therefore, at the end of life, compostable bioplastics have a reduced environmental impact and are a sustainable and modern choice.

Compostable or biodegradable?

The difference lies in time: a biodegradable element is not automatically compostable.

One defines biodegradable as any material that can be broken down by bacteria, sunlight and other natural physical agents, into simple chemical compounds such as water, carbon dioxide, mineral salts and biomass. It is a process that can take time, even a long one, for each element (according to European legislation, to be biodegradable a packaging must decompose of 90% within 6 months).

However, it is defined compostable (transformable into compost, a natural fertilizer) if that material which is not only biodegradable but also disintegrating and whose decomposition process takes place in less than 3 months.

Compostability is the ability of an organic material to turn into compost. Composting at the industrial level, fed by domestic organic waste and by waste from agricultural processing and other sectors, is practiced in specific plants that guarantee the correct management of the process.

To obtain the OK COMPOST certification, the product must meet stringent requirements set by the UNI EN 13432 standard, which is the most important technical reference for packaging manufacturers, public authorities, composters, certifiers and consumers. UNI EN 13432 defines the four characteristics that a compostable material must have to be recycled through organic recovery; the material must be subjected to accurate laboratory analysis and demonstrate that it possesses these 4 characteristics:

1. Biodegradability, i.e. the ability of the material to be converted into carbon dioxide (CO2), mineral salts and biomass thanks to microorganisms and in a similar way to what happens to natural waste.
2. Disintegration, i.e. fragmentation and loss of visibility in the final compost.
3. Absence of negative effects on the composting process and on the quality of the compost.
4. Almost no heavy metals

The "Ok Compost" certification for a filling packaging is extremely important because it gives the consumer both the possibility to direct his choices and provides clear and correct information about the correct disposal of the product after its use.

Despite research and interest of consumers that are moving towards products with lower and lower environmental impacts, using the products in the best possible way along their entire value chain, recovering them at the end of their lives by promoting a circular economy, avoiding waste and differentiated disposal remain necessary behaviors to be adopted in every home for our well-being and a sense of responsibility towards future generations.