DUNAPACK POLYURETHANE FOR PACKAGING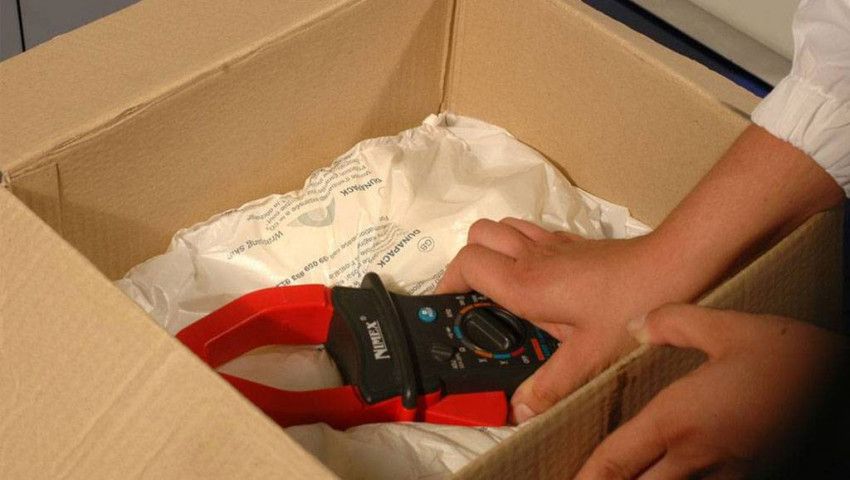 ---
How can polyurethane serve the packaging field? To anyone who is familiar with the material, polyurethane foam shows characteristics that seem absolutely essential in a filling material that offers a suitable shock protection:
1) Light weight
2) Expansion, filling and bracing
3) Load bearing
4) Flexibility and shock absorption
These characteristics make polyurethane perfectly suitable to the creation of protective cushions (foam in place) that fill empty spaces within carton boxes, thus assuring the maximum protection and stability for any object shape.
In order to exploit these characteristics, DUNA-Corradini combined its experience on polyurethane and on expanded materials chemistry with the assembling of dispensing machines (of polyurethane or of polyurethane bags).
The line of packaging solutions DUNAPACK is born, a complete system of equipments and formulated polyurethane chemicals for super versatile packaging system, that instantly creates a shelf-shaping protective cushion of polyurethane foam, suitable for any kind of objects (from here the "foam in place" definition)
The DUNAPACK packaging foams in fact are perfectly dimensioned on every object shape or size; in case of impact , expanded polyurethane protective cushions get deformed, dissipating the impact energy.
For this reason, fragile and delicate articles are completely safe when packed with shock absorbing foam in place DUNAPACK, even in the case of very high impact stress.
In addition to the assured compression strength, the suitable conformation, the use practicality and the manageability, they also offer a remarkable thermal insulation; DUNAPACK packaging helps to preserve goods that are sensitive to the temperature variations.
To the characteristics of polyurethane foam, this system offers the following advantages:
- extremely reduced storage of raw materials, thanks to the small volume of liquids component compared to the volume of foam obtained (polyurethane components expand approximately 280 times their initial volume and it is possible to obtain up to 90 m³ of packaging foam with only two drums)
- Minimum percentage of breaks in case of fall or collision, thanks to the high Energy absorption of the polyurethane cushion
- Negligible transport costs, thanks to the low weight of packaging foam.
- Ready packaging solutions even for complex articles, thanks to the super versatility of the product.
- Cleanness and absence of dust and other incoherent particles that might damage some categories of sensitive goods.
- Protection from hot and cold temperatures thanks to the excellent thermo-insulating properties of polyurethane material
- Reduced packaging mistakes, since foams self-shapes around the object to protect.
- Possibility of piling packages thanks to the high compressive strength.
DUNA-Corradini also offers solutions for the production of large series of pre-formed cushions, providing machines, moulds and ancillaries for mass productions.
ENVIRONMENTAL CARE
Disposal and Recycling
Disposal of materials is often a concern and this is especially true when related to packaging materials.
DUNAPACK foams can be re-used for packaging, as long as their mechanical integrity is preserved. When packages made with DUNAPACK complete their life-cycle, they can be disposed as common solid urban waste, according to local laws and regulations, since polyurethane is an inert solid that does not release any pollutant in the environment.
DUNAPACK ECO – PACKAGING SYSTEMS with reduced carbon-footprints
DUNAPACK ECO are the last frontier of foam in place DUNAPACK systems especially developed to meet the environmental goals of our customers oriented to a green approach .
Available in 3 different grades, foams obtained with DUNAPACK ECO contain 20-25% of renewable carbon, coming from raw materials produced by vegetable sources.
Using chemicals produced from vegetables contributes to reduce the consumption of oil and oil-based fossil fuels, thus reducing global environmental impact.
DUNAPACK ECO grant all the advantages of the traditional foam in place foams and they are fully compatible with all our machinery and equipments, representing the cutting edge of our technology, focused on a responsible use of resources.
Competitive advantages of foam in place DUNAPACK system versus POLYSTYRENE:
- Avoids high costs of moulds and models
- Suits every object without having to change the mould (extreme flexibility)
- Reduces room in warehouse, as you do not need to store preformed items
- Polystyrene protection s involve one or more external supplier to be realized and shipped. Polyurethane protection is produced in the moment according to the need.
- Second-hand polyurethane packaging can be disgregated and re-used very easily.
- For fragile objects, polyurethane foam, definitely softer than polystyrene, offers a more suitable protection.
Competitive advantages of foam in place DUNAPACK versus PAPER and other materials (chips):
- BRACING: polyurethane foam blocks the object in package, thus eliminating the possibility for the object to move, which is a critical factor during transport (shocks, vibrations and shakes).
- CONTROL and REPRODUCIBILITY: paper and chips are inserted approximately; with foam in place DUNAPACK it is possible to measure how much material to use, so that all packages are the same and optimized for every object.
- PACKAGING DESIGN: for demanding customers that need to pack particular goods, it can be necessary to design the protective cushions in order to assure the safety of the object. It is clear that a foam in place DUNAPACK solutions offer many more opportunities in that sense, as it is possible to control shapes and structures on the basis of known physical and mechanical properties.
- PRACTICALITY AND CLEANLINESS: PU finished protection is made by one or more items that do not make dirt nor leave leftovers when removed or handled.
Competitive advantages of foam in place DUNAPACK versus AIR BAGS:
- Air bags may be punctured in presence of acuminated objects or sharp edges. Once the bag is punctured or exploded it loses every protection skill; PU foam on the other hand keeps it protection even after strong impacts.
- Often Air bags are in foils, wrapping the object, and the bracing may not be perfect.