@DUNA 8TH MARCH IS IN COLOR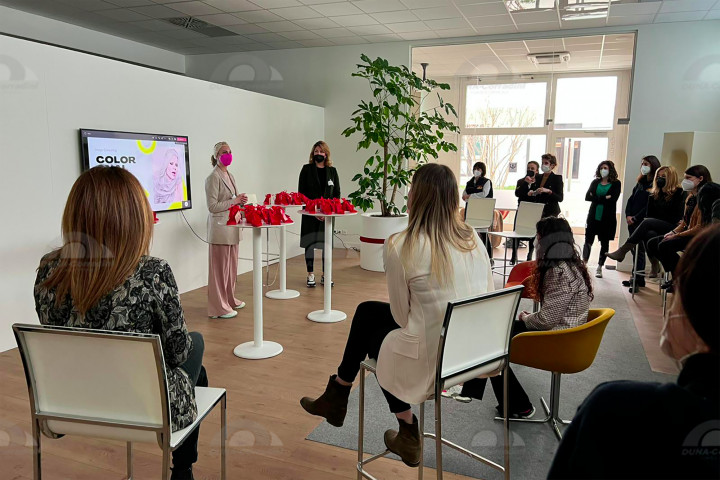 ---
08.03.2022
As is now tradition, on the occasion of the 8th March, the International Women's Day, DUNA has organized a small surprise. Each female Collaborator has received a red shoe, symbol of the fight against violence on Women, made of CORALIGHT®600 and reinvented by colleagues as a smartphone holder, and has taken part to an Armocromia Course to identify the most suitable color palette to enhance itself hold by professional personal stylists
The International Women's Day is an always welcomed opportunity for the DUNA Group to thank each Employee for the commitment, passion and determination given on workplace and in their all-round role in our society
This year the 8th March for the DUNA-girls was a day... in full color!
RED, like the small shoe in CORALIGHT600® , the symbol of the Fight against Violence towards Women, received as present to raise awareness on a theme unfortunately still current. This much-loved feminine accessory has been reinvented by DUNA creatives in a functional key, becoming a practical and sustainable tabletop smartphone holder.
RAINBOW, like the personalized color palette provided after the Armocromia course organized at the Company premises in compliance with all the covid-19 prevention rules. A new trend in the world of personal styling, Armocromia is the discipline that studies the best color combinations to enhance each person, based on her physiognomy and her skin, eyes and hair tones. Thanks to a first frontal lesson and a personalized consult made in presence or remotely, every DUNA-girl now knows which colors to prefer in her outfit and make-up choices, to always feel at her best.
Small gestures for great women who every day contribute with joy and determination to the growth of the DUNA Group and the entire society. Thank you, Girls!