CORALIGHT® 600: the transition to sustainable design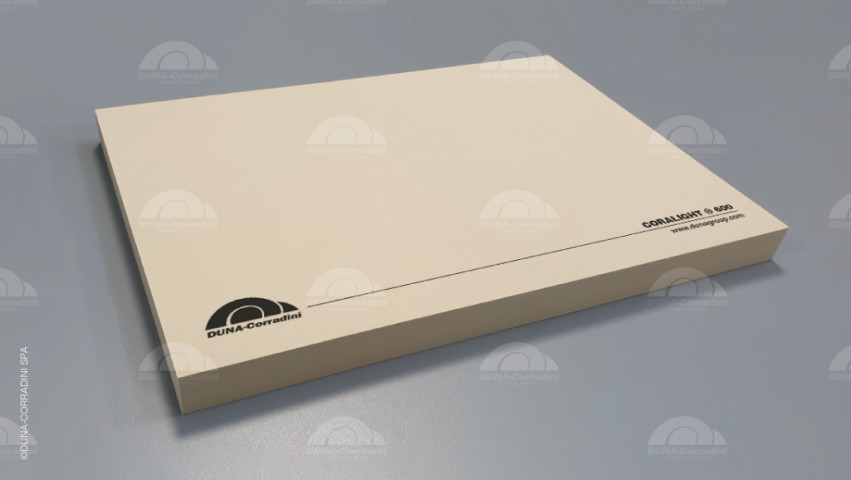 ---
18.11.2021
DUNA-Corradini inaugurates the new up-cycling plant announced in July. This is the beginning of industrial production of CORALIGHT® 600

One of the flagship projects concerning the circular economy collected under the broader program "SFRIDO ZERO" of DUNA-Corradini gets to the finish line: the new plant to produce CORALIGHT® 600, the noble polyurethane board deriving from the up-cycling of secondary products, has been inaugurated.

High screw retention, low water absorption and bending resistance are the excellent physical-mechanical performance that CORALIGHT ® 600 adds to the already known insulation properties of typical pf polyurethane.

"The composition of CORALIGHT® 600 and the plant design permitted us to combine functionality, high aesthetic value and circularity within the use of secondary raw materials", explains Massimiliano Motta, R&D Manager.

Thanks to these features, CORALIGHT® 600 finds application in many sectors where environmental aspects must be combined with technological and aesthetic ones, such as in the civil construction and furniture sectors. CORALIGHT® 600 is the perfect solution to create monobloc fixtures, frames and window frames, insulated shoulders and inserts for the installation of thermal coats. Unlike other wooden and / or recycled-origin materials, CORALIGHT® 600 offers durability and resistance to biological and environmental agents that make it highly appreciated in sectors such as technical furniture, exterior doors and all applications where a high humidity tolerance is required.

"CORALIGHT® 600 fully interprets the concept of circular economy" comments Guido Campolongo, Global Engineering & Industrialization Manager "and represents for us an incentive to integrate environmental sustainability in the design of new products and processes. Eco-sustainability is now an essential paradigm, both from an ethical and economic point of view, and this is our contribution to the transition to sustainable design".

CORALIGHT® 600 officially becomes part of DUNA-Corradini's industrial production, joining the wide range of CORAFOAM®, DUNAPOL® CORINTHO® and DUNAPACK® products, already known and appreciated world-wide.