Cornell Students Build Autonomous Sailboat for Oceanic Data Collection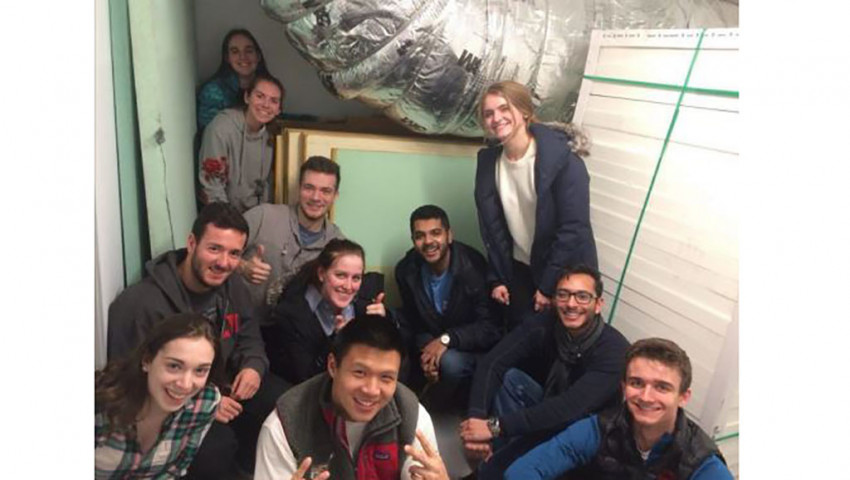 ---
22.03.2018
ITHACA, NY (March 13, 2018) – The students on CU Sail, Cornell University's Autonomous Sailboat Team, spend their free time between classes in a basement, hard at work building the latest iteration of the team's autonomous sailboat, which they named "Sailvane". Each year, the team designs, builds, and programs a lightweight, low-energy sailboat designed for long-term oceanic data collection.
The season is capped off when CU Sail competes in the SailBot Competition, an autonomous sailing competition which will be held from June 11-15 in Worcester, MA. This spring, a generous donation of tooling board by DUNA USA has enabled the team to build this year's autonomous sailboat out of carbon fiber, making the boat lighter, stronger, and more durable.
Initially a research project investigating the feasibility of gathering oceanic data with a large fleet of autonomous sailboats, CU Sail established themselves as one of Cornell University's Project Teams in 2016 and has grown ever since. Cornell's College of Engineering hosts 29 "Project Teams", teams of undergraduate students who receive a space and funding to pursue an engineering challenge or competition. CU Sail is in just its second year of operation as a project team, which has been made possible this year by a generous donation by DUNA-USA.
This year, the team's design called for a two meter long carbon fiber hull, the manufacturing of which requires high density tooling board. The team's limited budget couldn't accommodate the cost of the tooling board, so DUNA-USA stepped in and donated the material the team needed.
"It was very exciting to walk out onto the loading dock and find a huge pallet of foam there waiting for us" says Alec Dean, CU Sail's Team Leader. "DUNA stepped in and gave us more than we asked for, and we couldn't have done it without them." DUNA's donation is expected to fulfill the team's needs for the next several seasons, and will enable the team to create lighter, more robust designs, making their designs more competitive in competition and more feasible for research use.
CU Sail will be competing at the SailBot Competition on June 11-15 at Worcester Polytechnic Institute (WPI) in Worcester, MA. The team will be continuously improving their design for long-term oceanic data collection, and encourages you to follow their progress on social media (Facebook: CU Sail, Twitter: @CU_Sail, Instagram: @cusail) and on their website, cusail.engineering.cornell.edu.

About the SailBot Competition
The International Robotic Sailing Regatta is a robotic sailing competition historically held in North America in which teams of university, college and high school students compete. The first event, in 2006, was hosted by Queen's University, Kingston, Ontario and was inspired by the success of a senior project at the University of British Columbia to build a robotic sailboat. Teams have since annually competed throughout the US and Canada. The goal is to create an unmanned sailboat that navigates through a variety of challenges with limited, if any, human control. Students are able to use this friendly competition between schools to apply their engineering knowledge in a multi-disciplinary task that requires mechanical, electrical, software and engineering management skills to deal with this highly variable environment.
The competition is oriented to boats competing in the SailBot Class (up to 2 meters in length) but smaller boats are popular due to their easier logistics. There is an Open Class (which are boats up to 4 meters in length) oriented toward non-school teams and those boats above 2 meters in preparation for the MicroTransAt Challenge (max 2.4 meters length) or World Robotics Sailing Championship (up to 4 meters in length). For more information, go to sailbot.org.
About CU Sail
CU Sail is a Project Team within Cornell University's College of Engineering dedicated to the creation of a fleet of low-cost, energy efficient, autonomous sailboats for long term oceanic data collection. The team started as a research project in Cornell's Biorobotics and Locomotion Lab under the direction of Dr. Andy Ruina. In 2016, the team established themselves as one of Cornell Engineering's Project Teams to increase the project's visibility and undergraduate engagement. Although the team's long term goal is to create a sailboat that can autonomously gather data for months at a time, CU Sail annually competes in the SailBot competition, a competition which tests control, stability, versatility, and speed of autonomous sailboats. This allows the team to make annual revisions to their design while in pursuit of their long-term goals. For more information, go to cusail.engineering.cornell.edu.