DUNA-Corradini obtains BS OHSAS 18001 certification.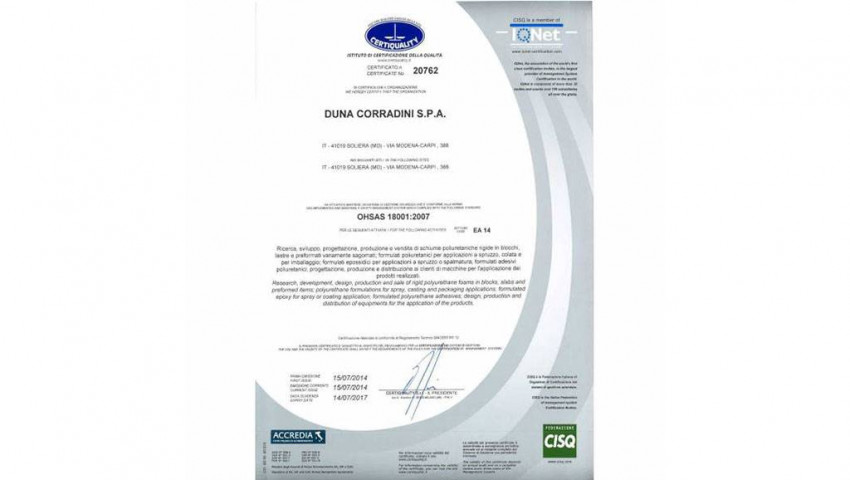 ---
30.07.2014
In these days Duna-Corradini got the certification according to the international standard OHSAS 18001 (Occupational Health and Safety Assessment Series), acquiring an organizational model aimed at risk control and prevention in the field of safety and health at work.
Issued by BSI (British Standards Institution), OHSAS 18001 is a certificate of compliance certifying the voluntary application of a system within an organization that ensures an adequate prevention with regard to workers Health and Safety.
The Management of Health and Safety System (OHSMS) has the main objective to eliminate or minimize risks, relying on monitoring, prevention and continuous improvement.
To achieve this important goal, only in the first half of 2014 more than 1440 hours of training were provided to all employees.A Management System in fact involves the whole organizational structure, activities planning (including for example the definition of objectives), responsibilities, procedures, processes and resources for internal and external professionals.
The monitoring also is a key phase of the system by allowing each worker, before any other, to control its activities, noting any deviations from the standard processes.
Among the main monitoring activities addressed:
- The maintenance and verification of machines, equipment, and systems;
- Health surveillance;
- The monitoring of contractors.
The implementation of BS OHSAS system also allows to:
- Have a tool to support investment decisions and technological change;
- Provide means of protecting corporate assets;
- Ensuring a systematic approach to emergencies derived from injuries and accidents;
- Communicate with facts a business philosophy, a new way of conceiving business that goes through training, empowerment, and the contribution of each one.
BS OHSAS is also easily integrated with the Quality Management System ISO 9001, fielded by Duna-Corradini in 1998 and since then constantly renewed.
The achievement of OHSAS 18001 certification translates into facts the commitment of DUNA-Corradini in support of a business development more and more ethical, responsible and sustainable.