DUNAPACK® LAUNCHES RIO, THE NEW AIR PACKAGING IN RECYCLED PLASTIC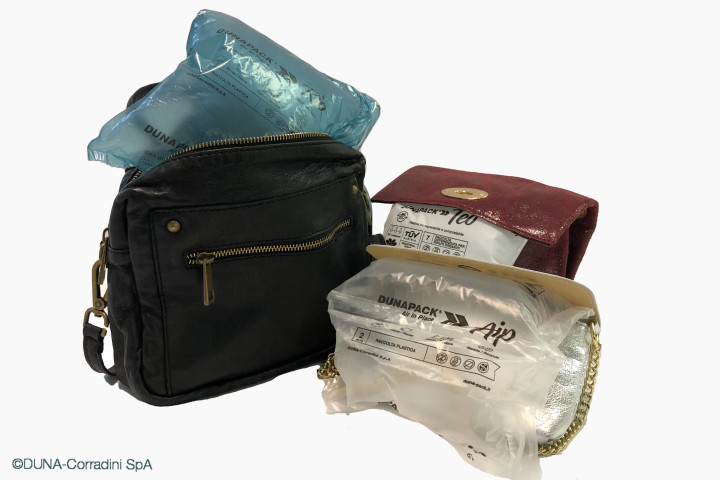 ---
15.09.2022
After the launch of TEO, a biodegradable and compostable air cushion, DUNAPACK® widens its Air in Place range, on-demand air packaging, with RIO, the new film made from 70% recycled and recyclable plastic. Available in multiple sizes, the new RIO cushion aims to reduce the consumption of virgin plastic and the environmental impact of packaging systems


Always attentive to the theme of Sustainability, the DUNA Group confirms its green commitment with the launch of the new regenerated film RIO, the latest addition to DUNAPACK® Air in Place range, the DUNA Division specialized in the production of filling and protective packaging on-demand

The start of industrial production of the RIO air cushion, made of 70% pre-industrial recycled polyethylene, marks a turning point for the entire industrial packaging sector: the high percentage of recycled component present in the new RIO cushion allows to minimize the consumption of virgin plastic material, while ensuring maximum quality and resistance of the bags. The choice to use pre-industrial recycled plastic material guarantees on the one hand maximum control over the homogeneity and characteristics of the materials of origin, on the other hand simplifies the post-life disposal of the packaging, recyclable as plastic.

The recent expansion of the range represents another step by DUNAPACK® along the path of Sustainability, already began in 2018 with the launch of the new TEO film, a compostable and biodegradable cushion, made of fermented vegetable granule. Certified in 2019 with the "OK Compost" Mark by TÜV (UNI EN 13432), this eco-friendly film is available on multiple sizes, including the new NUVOLA cushion.

A virtuous path continued in 2021, with the starting of the supply in reams, replacing the previous coils, to reduce the waste of packaging material. A commitment to the Environment that continues today with two further steps: in addition to the introduction of the new regenerated RIO film, DUNAPACK® has adopted new screen printing, anticipating by several months the entry into force of Legislative Decree 116/2020 on Environmental Labeling.

Offering on demand packaging solutions with reduced environmental impact and provide consumers with clear indications about the correct disposal are absolute priorities for the DUNA Group, as well as essential needs to protect the Environment, the People and our Future.

"Thanks to continuous technological research, the DUNA-Group can now offer an on-demand air packaging made of recycled polymer material, capable of minimizing the environmental impact of the packaging process, ensuring maximum protection of the final product and full wholesomeness for operators and end users" underlines Ing. Marta Brozzi, President and CEO of the DUNA Group.