From Concept to Reality: A Scaled Train System from HDU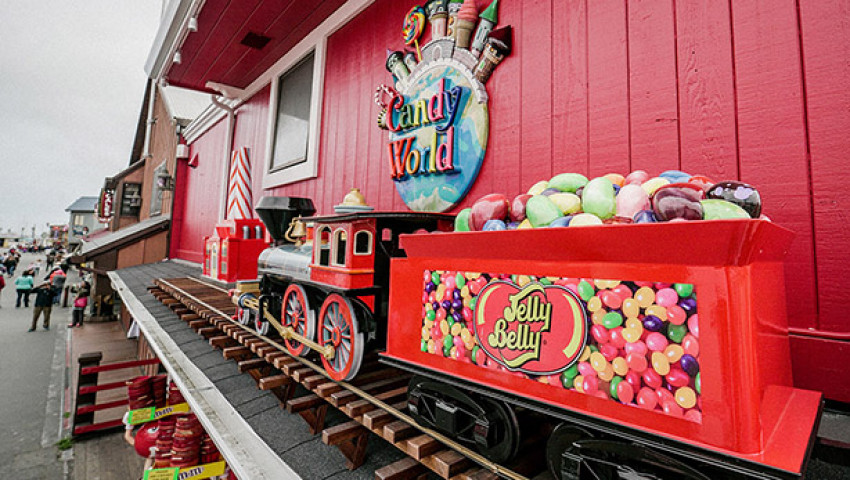 ---
05.04.2018
Monterey, CA is world famous for its beautiful weather, scenic coastline, and its Cannery Row and Fisherman's Wharf landmarks. California sign shop Signs by Van has mastered the art of dimensional signmaking for this beachside paradise, and their work can be seen throughout the area – word of mouth spreads quickly and in the touristic business model of the wharf, a good sign can make or break a business.
They recently completed an extremely labor-intensive project - a scaled model of the famous Del Monte Railroad for the "Candy World" shop centrally located on Fisherman's Wharf.
The Del Monte passenger train opened in 1880, and connected San Francisco to the famous Hotel Del Monte and Pebble Beach. With the nostalgic feel of Fisherman's Wharf, this throwback gesture to the Del Monte train was the perfect addition to the Candy World location on the wharf.
Tasked with conceptualizing, manufacturing and installing a locomotive, coal cart, 3 railcars, a caboose, and 25 feet of track onto a roof with a 17% pitch, Signs by Van described the project as one of the most challenging they have ever undertaken. "The entire project was a full-bore reconstruction of a complete railroad and train system. We spent over 75 hours of CNC time alone cutting the individual components of the train system and tracks", explains Jeremy VanderKraats, Signs by Van Co-owner.
Signs by Van utilized Enroute Pro software and a 3-axis CNC machine to realize the individual components of the train system. "Even with the aid of a 3-axis CNC machine, this project was still extremely labor intensive because of the need for us to cut it in small sections due to the limitations of the router. This is part of the reason for our pending purchase of a new SCM 5-axis router, which would have reduced labor time exponentially," explains Jeremy.

Dick Schulte has been hand carving wood, HDU and other substrates for over 30 years, and has been a key team member of Signs by Van for decades. With the complexity of this project often outpacing the capabilities of today's CNC technology, it was necessary for Dick to use some of his hand carving expertise to help bring this project from concept to reality. "The CNC machine is such a great tool in automating a lot of the difficult fabrication required for a project like this, but when it comes to putting the pieces together, and fabricating certain highly dimensional pieces, hand carving is the only solution," recalls Schulte. The bears, and many of the individual train system components were all hand-carved by Dick as part of the monumental effort required to produce this highly-custom sign system.
Besides fabricating a full on locomotive train system, Signs by Van also needed to design and manufacture over 25 feet of railroad track. Not one for taking shortcuts, they opted to use hand-hewn mahogany and real brass railroad track. Extreme care was needed in the design and manufacturing phases, especially due to the incline pitch of the roof where it needed to be installed. According to Jeremy, "the train track system was one of the most complicated facets of the entire project. The pitch of the roof added a layer of complexity that pushed us to the brink of almost pulling our hair out, but in the end, it worked out excellently and pushed our craft to the next level."
Once the fabrication process was complete, the entire project was primed with a specialized process developed by Signs by Van over the years for when they need to achieve a high-end automotive finish. First they sprayed on a coat 3M Bondo Fiberglass Resin using a wide-tip spray nozzle. This was followed immediately by a coat of Evercoat Slick Sand sprayed on only ten minutes after the Fiberglass Resin was applied. This short interval allows the different products to "marry", leaving an ultra-smooth, protective surface that only needs to be sanded the next day and is then ready for paint. The beautiful final paint job was a combination of Behr ultra-premium and Nova Colors exterior grade paint, coated with a Nason multi-purpose clear coat.
The train has been installed for several weeks now and is quickly becoming a landmark in its own right, greeting visitors from its perch at the entrance to the historic wharf.
Signs by Van has been manufacturing signs since 1981, and have been helping to enhance the beauty of local businesses through the renowned wine country of Northern California. To see additional information about them, please visit: https://www.signsbyvan.com/.