"MAROON HARPOON" PROJECT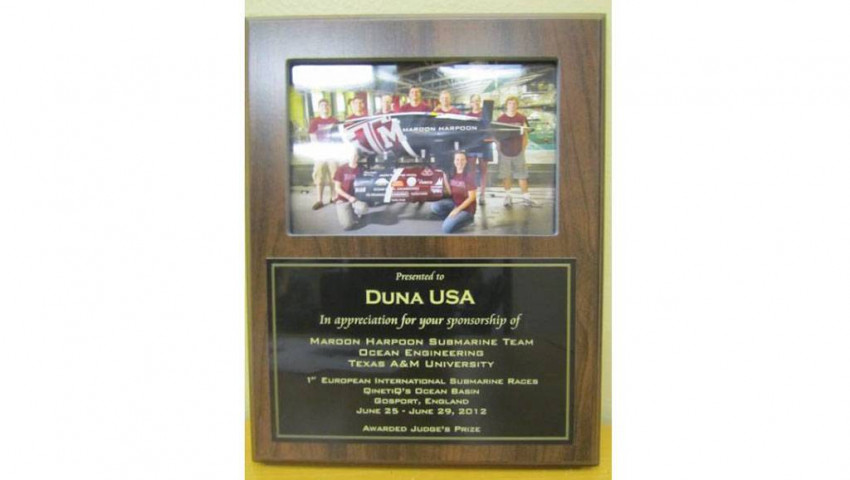 ---
17.09.2012
DUNA-USA has been sponsoring since 2007 a technical project of students of the Engineering department of Texas A&M University.
Texas A&M University Ocean Engineering students designed and built "Maroon Harpoon",
a single person, human powered propeller driven submarine to compete at the European International Submarine Races (eISR), held in June 2012 at QinetiQ's Ocean Basin testing facility in Gosport, England.
The eISR this year brought a new and exciting challenge to the sport of human-powered submarine racing. Where recent races have focused on straight-line speed, the eISR introduced this year a slalom course. The emphasis is still on speed, but the subs score faults for all interactions with the course markers - the sub which finishes with least faults and fastest time wins, and Texas A&M University was awarded with Judges' Award for Perserverance
The Maroon Harpoon hull was originally built in 2007, and the 2012 eISR will be Maroon Harpoon's fourth races to attend. The submarine in fact was raced in the 9th International Submarine Races (ISR) in 2007, the 10th ISR in 2009, and the 11th ISR in 2011 at the David Taylor Model Basin in Bethesda, Maryland.
The manufacture of the submarine was designed for the best possible speed for a person (pilot) with a maximum height of 5 ft 10 in. DUNA USA donated to the project a 4-lb/ft3 density foam of dimensions 30 in x 50 in x 114 in. used to realize the mould of the hull. The hull was then fabricated using a fiberglass sandwich technique with Kevlar material and flexible syntactic foam.
We renew our congratulations to the Texas A&M students for the next year!