MORE PROTECTION, LESS WASTE, LESS ENERGY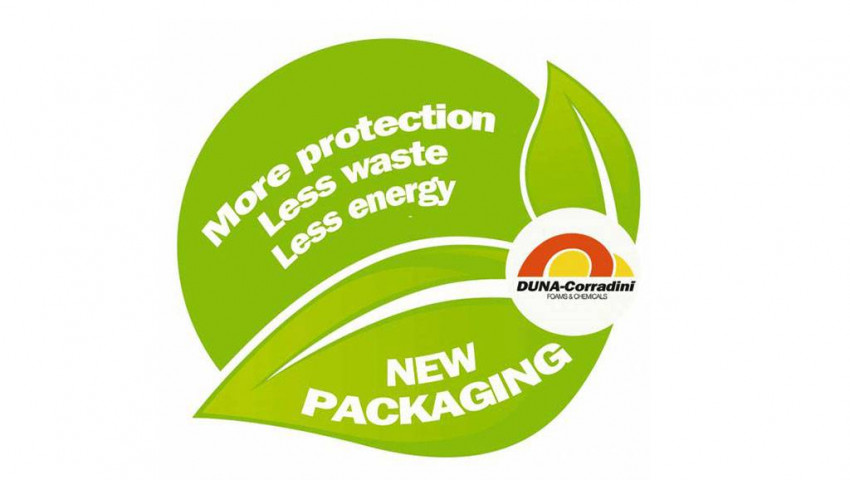 ---
01.09.2014
During the summer break of August in its plant of Soliera, DUNA-Corradini installed a new packaging system for CORAFOAM® low density slabs which is now fully functional and operating.
The new system radically revolutionizes the previously used method, based on the wrapping of parcels obtained by heating a shrinking film through a passage in the oven.
The new module integrates with the existing line and represents an important investment of hundreds of thousands of euro.
This new technology wraps the stack of plates through a satellite system and its main advantages are:
- SUSTAINABILITY: Significant reduction in weight of the material used for wrapping (at least 4 times by weight), with consequent reduction of waste to be disposed at the destination by the Customer.
- SUSTAINABILITY: Reduction of energy to process packaging (we eliminated about 150 kW of power continuously supplied during the working hours).
- QUALITY: Greater protection: the bandage coils wrap and block the stacked plates, ensuring a much more stable pack, which is compact, perfectly squared and able to better withstand the stresses of transport and handling along the whole supply chain.
- FLEXIBILITY and PRODUCTIVITY: Possibility of higher (up to 1300 mm compared to the previous 800 mm), wider (up to 1300 mm) and longer stacks (up to 3000 mm) with subsequent optimization of space on trucks and increased productivity.
- SAFETY: The new module allows you to make our production line more compact, eliminating two ovens online and offline, and recovering space in the department in support of increased safety.
The new packaging system is therefore an important technological investment supported by the management in a "green" optical, focused on improving service to its customers, but with a great attention to energy conservation and waste reduction.