New CATAS certifications for our DUNAPOL® AD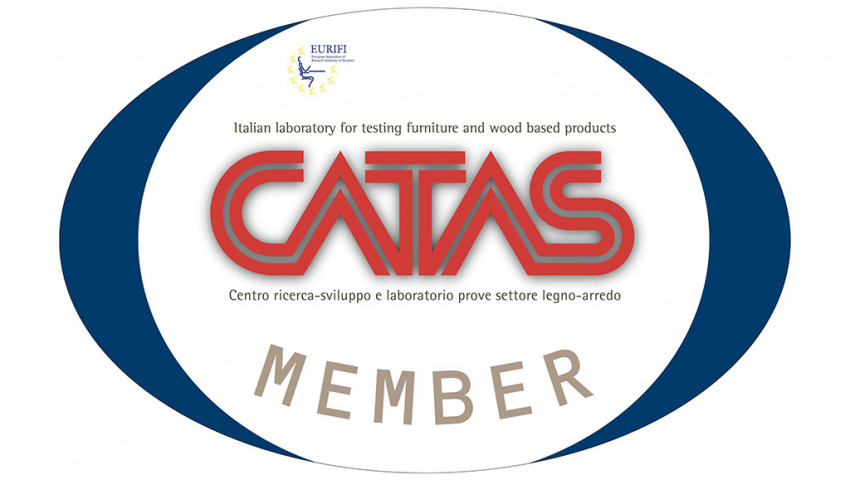 ---
07.11.2013
CATAS Spa, located in San Giovanni Natisone, near Udine is a center of excellence for research, analysis and testing in the wood and furniture industry, a reference point in Italy and in the world, consisting of two departments, one technological and one chemical, to cover the wide range of testing and commissioned research on the materials or on the finished products.
In the field of wood, for each material and product, CATAS is able to prove the actual compliance with the requirements desired by the customer, compliance with the specifications required by the standards, quality control, safety, strength and durability, by conducting trials in accordance with European (EN), international (ISO) and national (UNI, DIN, BS, NF, ASTM, ANSI, etc.) standards, or sometimes, according to any tailor made specifications required by the customer.
DUNA-Corradini decided to join in this institution because it recognizes its value as a point of reference and technological support in the growth and development of the companies belonging to the wood and furniture sectors, contributing and helping to improve the quality and reliability of products and the business sector.
We therefore asked CATAS to conduct specific tests on some of our one-component polyurethane adhesives DUNAPOL ™ AD already used in various industries for bonding wood.
The requested tests were the durability of the adhesive in terms of resistance to water and to high temperatures.
The test of evaluation of water resistance (resistance to shear strength of bonding EN 205:2003) provides a series of immersions of the specimens in water at different temperatures and for different times. All adhesives DUNA tested have reached the durability class D4 (EN 204:2001) ie the best.
The test of resistance to high temperatures (Tensile strength at high temperature EN 14257:2006, originally known as WATT 91) does not provide the categorization into classes, but provides a result of tensile strength while keeping the specimens to a temperature of +80 ° C.
For this kind of test, the market generally requires that the product reaches a value of 7.0 N / mm² but the DUNA adhesives have reached values ??of 8.8 and 9.8 N / mm².
Water resistance and high temperature resistance are very appreciated in several areas: in construction and marine for example, but also in all outdoor applications, where it is now certified the use of DUNA one-component adhesives in absolute tranquility.