Our support to the National Amputee Soccer Team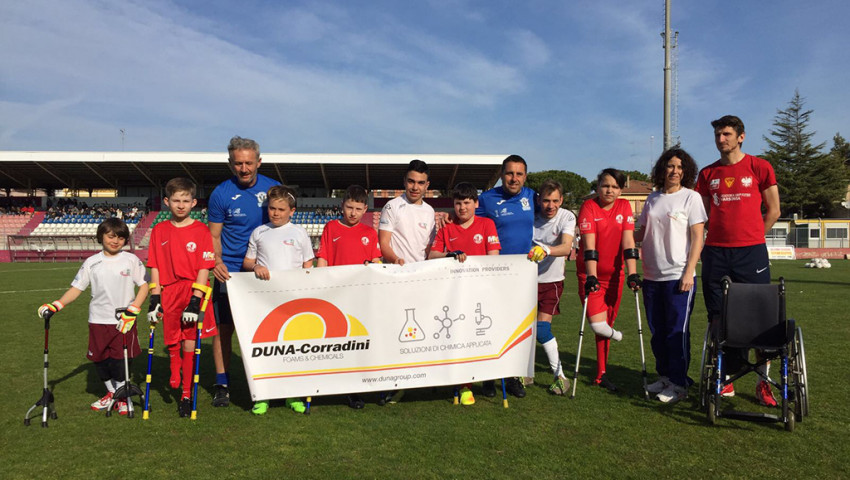 ---
29.03.2017
We would be really glad to see you at the international amputees soccer match ITALY vs POLAND, to be held on Saturday, April 1, 10:30 am at the A.Mancini Stadium in Fano (MO).

Supported by DUNA-Corradini, the Italian team consists of boys and technicians joint by enthusiasm for a sport that has no limits or boundaries, a team that is not recognized by Federcalcio but officially recognized by UEFA. It was founded in 2012 thanks to an idea of Francesco Messori, a 17-years-old living in Correggio (RE).

Born without a leg, Francesco, at the age of 12 launched an appeal on Facebook in order put together a team, to which many answered: other kids or adults, who were deprived of a lower limb because of an accident or congenital problems.


His dream of forming a team becomes reality thanks to the Italian Sports Center CSI, which in 2011 embraced his cause and changed the regulation to allow him and others to play in a soccer league.


"When people come to see us play, - admits Francesco - many think about those sad things, even if done with the best intentions, in which someone moves with difficulty, there are no fouls and maybe someone gives us a penalty to make a goal. Instead we are real athletes."


Today the National Amputee Soccer Team can compete with all the other European teams, it has been inserted in the WAFF (World Amputee Football Federation) and is a flagship for inclusion, integration and belonging.

Sport is a key element on the emotional and social level, a dynamic, playful environment to enhance self-awareness and body. It is both an educational and training tool: combining physical and recreational activity in fact, it promotes health, longevity, physical and psychological well-being and it is a source and engine of social inclusion, an excellent tool for the integration of minorities and groups at risk of marginalization.

The National Soccer Amputee Team is however a project that costs not only in terms of design and construction, but also in terms of money: every year CIS (Centro Sportivo Italiano) invests in this activity not less than 20 thousand euro and fortunately it has always had important partners at his side.
To learn more and to help: http://csimodena.it/sociale-e-volontariato/sportanchio