TEDxMODENAWOMEN 2021: "WHAT NOW?"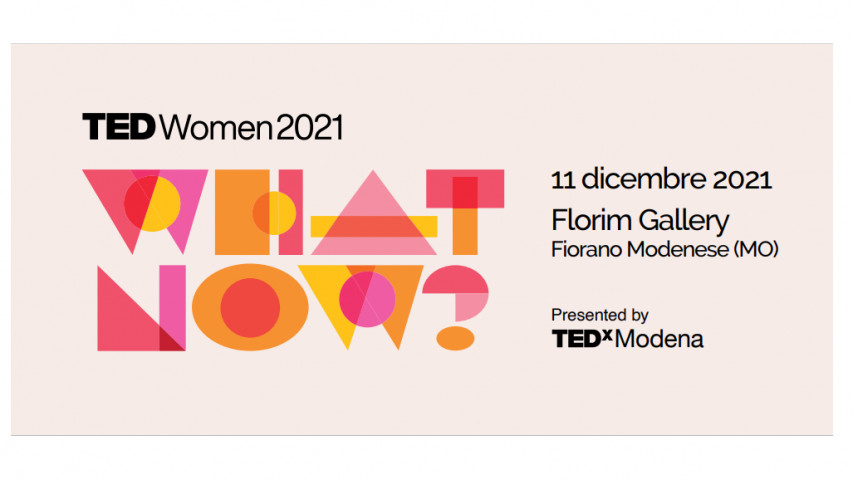 ---
09.12.2021
International speakers and a scholarship: more and more future in the 2021 edition

Among the dozens of other TEDxWOMEN events organized all over the world, Modena (Italy) also responds to the appeal with its edition of TEDxWOMEN in Modena: Saturday, December 11th, from 15:30, 8 speakers will be on stage at the spectacular Florim Gallery by Fiorano Modenese to share their ideas in response to the provocation of this edition: "WHAT NOW?". After a year that has changed our lives and our "normality", we will try to imagine what will be the challenges that await us, the new possibilities that we will be able to seize and ideas on how to live and work best in the coming years.

TED (Technology, Entertainment and Design) is a non-profit organization dedicated to "ideas worth spreading": it was born in 1984 in California (USA) and has grown over time thanks to events and conferences on a wide range of topics, as well as important participation worldwide. Independently organized around the world, Tedx events represent the local declination of TED events, to bring the same provocations, ideas and reflections that distinguish TED programs to the local level. The TEDxMODENAWOMEN appointment on Saturday, December 11th will celebrate women who are imagining new possibilities and exploring new ideas on how we can live and work better together in the years to come: Design, Technology, Science and Culture together to imagine the future to build and think in view of "restarting".

And this year, for the first time, the "Antonia Terzi Scholarship" (the world's first female engineer protagonist at the Formula 1 pits) aimed at young enterprising women, ready to live the future challenging the conventions.
Let's meet in Fiorano Modenese.

To learn more about:
- Website (info and tickets) tedxmodena.it
- Facebook: tedxmodena
- Twitter: @tedxmodena
- Instagram: @tedxmodena_official