BLUE CORINTHO® IN THE RACING DEPARTMENT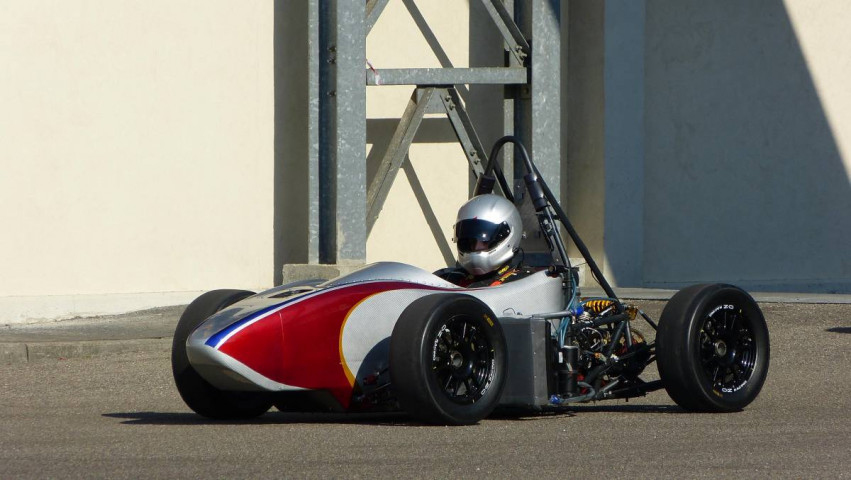 ---
17.07.2015
DUNA-Corradini participated in the construction of a prototype for Formula SAE providing material BLUE CORINTHO® (6 sheets 500x1500x50 mm + 6 plates 500x1500x100 mm) at the "Politecnico" of Milan.

The Formula SAE is a worldwide competition among university students organized by the Society of Automotive Engineers (SAE). The aim of the championship is to offer the opportunity to students of engineering to approach the world of motor racing.

The league now has nine world events in North America, South America, Europe (including Italy), Asia and Australia. The participating teams are required to design and build a racing open-wheel single-seat respecting strict regulations, then evaluated by the judges based on design, cost, efficiency and innovation: the team that wins can score the most points facing a number of static and dynamic tests.

In order to compete, FSAE cars must conform to a specific regulation to ensure safety and limit the performance of the prototypes, leaving plenty of space in search of innovative technical solutions.

The Politecnico di Milano is represented by the Dynamis PRC (PoliMi Reparto Corse) team, that from its foundation designed and built six prototypes.

The prototype that will participate in races of 2015 season (called DP7), features a hybrid frame, consisting of a carbon fiber monocoque and a tubular steel structure.
Precisely in the realization of the monocoque comes into play the material BLUE CORINTHO®, material of density 700 kg / m3 suitable for models.

The car, with an engine of motorcycle-derived, has cooling, suction, lubrication and drain designed by students, as well as change and clutch.
The control unit has been entirely designed, planned and carried out by students of the electronics department. The suspension system has been specially designed for circuits like Formula SAE (many consecutive curves, slalom and important braking), so that the tires can give their best in the lateral dynamics.
Extensive use of composite materials, titanium, magnesium and aluminum allowed to reduce the car's weight of 30 kg compared to the previous season and reach 185 Kg.

We make our compliments to Dynamis team for the results already achieved in the design, and wish them good luck for the upcoming SAE competitions!
Benötigen Sie
technische Unterstützung

für die Produktauswahl?
Wollen Sie ein

Angebot

anfordern?
Möchten Sie eine

E-Mail

senden?