CHILDREN IN OFFICE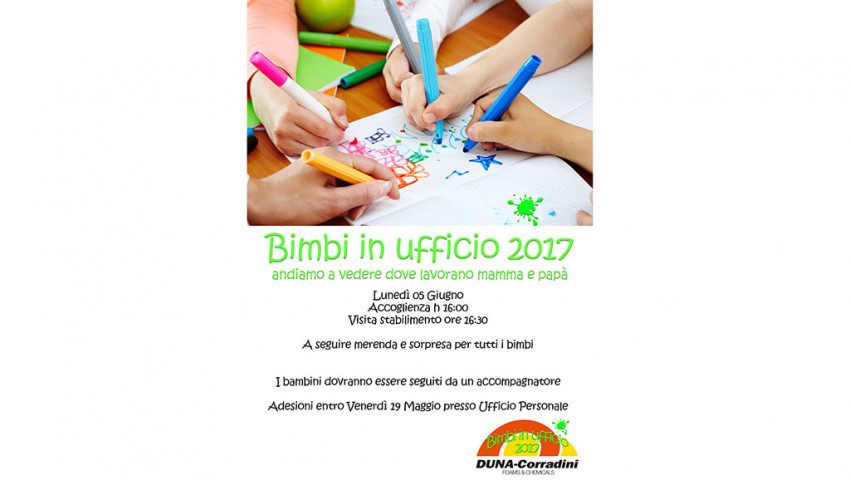 ---
17.05.2017
Where's my dad all the day long? Who works with my mom? What does her office look like?

In order to answer all these questions that our children posed to themselves at least once, in May the party "Children in Office" will be held throughout Italy.

This is the 22nd edition of the initiative promoted by the newspapers Corriere della Sera/Corriere Economia in cooperation with La Stampa; a day when companies, organizations, associations and professional studios open their doors to receive their employees' children, with the goal of showing where parents spend their time when they are away from home.

Explaining to a child what work is like is never easy ... It is likely to create confusion without satisfying the curiosity that animates every child.


Knowing where Mom and Dad work and what they do for most of the day when they are out of the house helps the little ones to stay calm in their absence, reinforcing the bondage of complicity with their parents.
At the same time, inviting families to the company helps to strengthen relationships between the company and its employees.

For these reasons, this year DUNA-Corradini decided to join the initiative by setting its first edition of CHILDREN IN OFFICE on June the 5th at 16:00.


On this day the doors of the company will be open to small guests, but also to spouses, companions and grandparents who want to accompany them. There are no age limits, from 0 to 18 years (but we also welcome the adults).

A tour between the company's production departments and the desks, the organization of some games and a snack will enliven this day dedicated to families.




Benötigen Sie
technische Unterstützung

für die Produktauswahl?
Wollen Sie ein

Angebot

anfordern?
Möchten Sie eine

E-Mail

senden?