CORAFOAM® H: performance and sustainability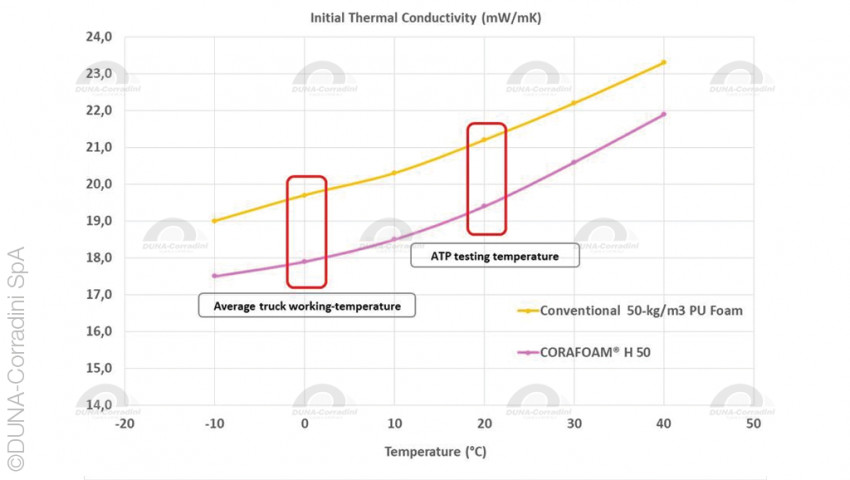 ---
13.05.2021
Fourth-generation ecological blowing agent enhances the CORAFOAM® H range: welcome CORAFOAM® H 50!

CORAFOAM® H is the latest polyurethane foam line developed by DUNA-Corradini for high performance thermal insulation applications. The unique expansion technology makes its insulating properties distinctive.
CORAFOAM® H responds to the growing demand to improve energy saving and offers a thermal conductivity coefficient (lambda) that is 10% better if compared to the strictest market standards for rigid expanded polyurethane. But, its contribution to sustainability goes far beyond that.

The company's strategy aims to contribute to the achievements of the EU 2030 goals: the reduction of greenhouse gas emissions by 79% by 2030. European Regulation no. 517/2014, better known as "F-Gas Regulation" is one of these goals. CORAFOAM® H employs state-of-the-art blowing agents hydrofluoroolefines, (HFOs) that have a negligible greenhouse effect as they have a GWP (global warming power) even lower of those of conventional hydrocarbon expanders, which are absolutely compliant with the Regulation itself.

The H series started in 2018 with CORAFOAM® H 40 and, as a result of market demands, is now enriched with the first industrial production of CORAFOAM® H 50 at density 50 kg/m³.
With this project, DUNA's R&D confirms its role as Innovation Provider and its commitment to the research of high-performing and increasing sustainable solutions.

Benötigen Sie
technische Unterstützung

für die Produktauswahl?
Wollen Sie ein

Angebot

anfordern?
Möchten Sie eine

E-Mail

senden?