DUNA & TEDxModena 2021 - VISION OF SUPER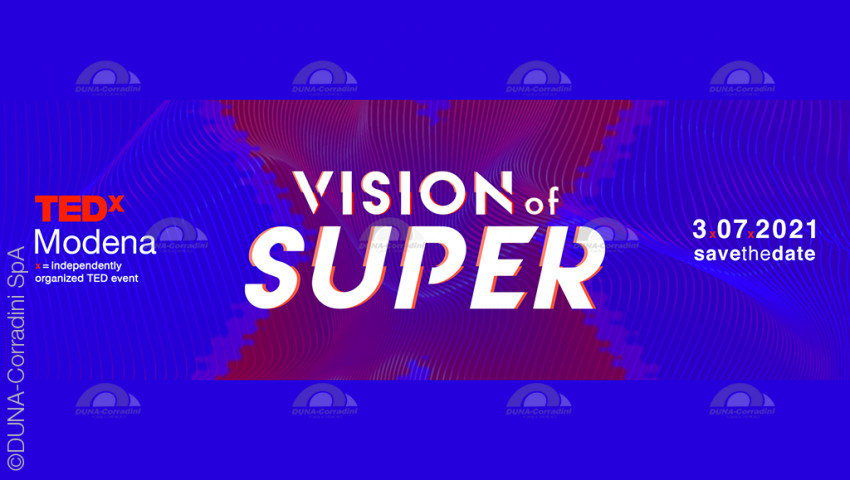 ---
23.06.2021
Saturday 3rd July 2021 h 15:30/ Storchi Theatre / Modena
Save the date!

TEDx returns to Modena for the fifth consecutive year and DUNA-Corradini is enthusiast to support TEDx sponsorships aimed at scientific and technological dissemination once more. On Saturday 3 July, thinkers and innovators will go up on the stage of the Storchi Theater and propose their idea on the subject of "VISION OF SUPER".

Each Speaker will have 18 minutes, per TED rules, to involve the public in their idea of VISION OF SUPER, which is vision as the origin and engine of change and the foundation of every social and cultural evolution.

Everything started in 1984 in California with a conference on technology, entertainment, and design (hence the acronym TED) and over time, TED has become a worldwide community thanks to the TEDx program, i.e. independent events organized locally but TED certified. From 2009 to date, TEDx events globally have been held around 20,000 times, generating over 1 billion views on the dedicated platform. TED deals with topics and offers reflections ranging from science to business, from culture to art, stimulating lateral thinking at the basis of every social and cultural innovation and transformation. TED is a non-partisan, non-profit organization that aims to spread ideas in the form of short and powerful speeches by innovative and selected speakers.

To talk about VISION OF SUPER, the city of Modena is pleased to offer the stage of its theater in Largo Garibaldi to the pioneers of change who dismantle consolidated equilibriums, face risks and extend the boundaries of thought, while sometimes creating new scenarios, and other times reinterpreting the existing in a non-existent way. All in just 18 minutes.

Follow TEDxModena on the web and on social networks in the coming days to find out who will be the speakers of this edition (https://www.tedxmodena.it/)

DUNA-Corradini, partner and sponsor of TEDxModena for years, invites you to spend an alternative afternoon, finally in attendance!
See you on July 3 at 3:30 pm at the theater.

TICKET SALE: https://bit.ly/3gQ8Gqd

Attend the GALA DINNER with speakers, organizers and volunteers and support the spread of valuable ideas in your community: https://bit.ly/3xIklyc


Benötigen Sie
technische Unterstützung

für die Produktauswahl?
Wollen Sie ein

Angebot

anfordern?
Möchten Sie eine

E-Mail

senden?