"Silla Corradini" competition: Kick-off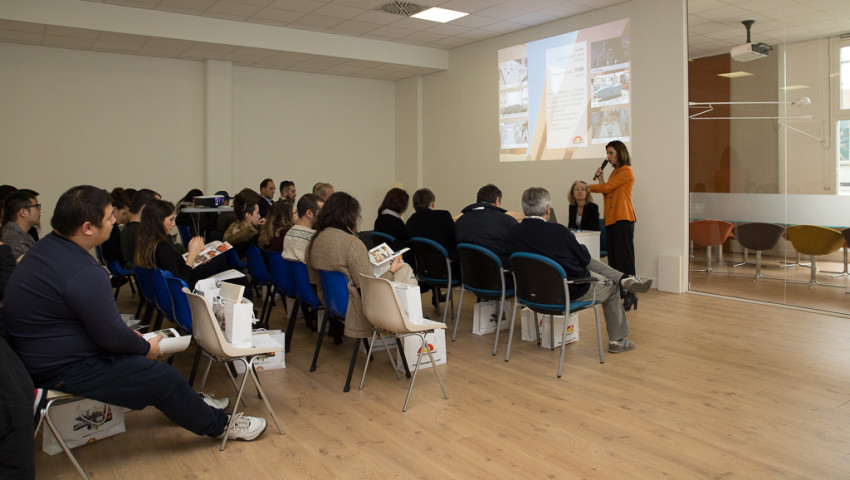 ---
25.11.2016
"Silla Corradini" competition is going on: the contest, organized by DUNA-Corradini and Brera Academy, plans the realization of art works using DUNA-Corradini materials.
Wednesday 23 of November, DUNA hosted in its HQ about 30 Brera Academy students who decided to take part in this competition.
Young artists arrived in the early morning, attended a company presentation and saw few applications of our products in the creative area. They also they met personally the whole DUNA team that will follow them during their works:
- Marta Brozzi, Sponsor
- Guido and Luca, Production area
- Max and Roberto, Research and Development
- Lara and Maria Giulia, Marketing and Communication.

During the meeting our staff answered to the students questions showing the working opportunity offered by our material and by 5 axys 3D equipment, 3D foam samples realized with medium-high density CORAFOAM® on our equipment and samples painted with our epoxy sealer DUNAPOX™ .

The company visit ended with a short tour in the production area in order to let better understand DUNA industrial and manufacture reality both to students and to professors.

At the moment we should just give space to the artists creation and wait with much curiosity for the projects presentation within the 2Q of 2017.

Stay with us to find out more!

Benötigen Sie
technische Unterstützung

für die Produktauswahl?
Wollen Sie ein

Angebot

anfordern?
Möchten Sie eine

E-Mail

senden?