TEDxModena – Digital Evening Talks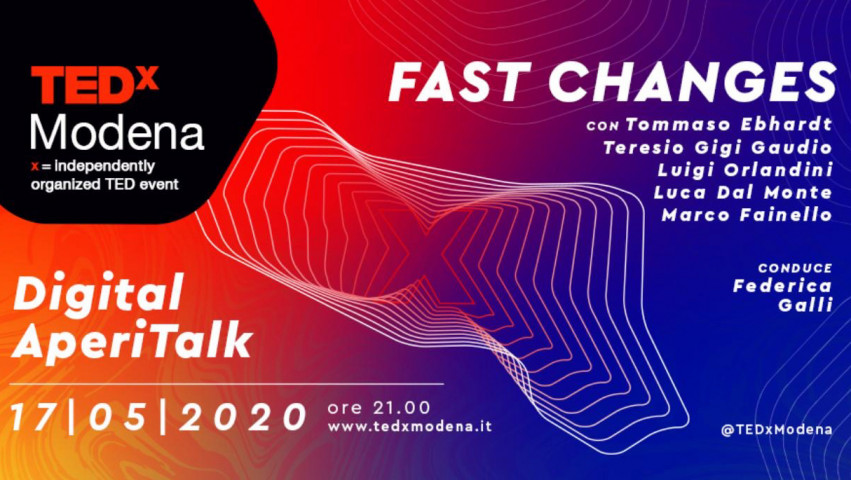 ---
10.05.2020
TEDxModena - Digital Evening Talks
❌ The bigger the challenge, the more we need new ideas ❌
The context we are experiencing is an opportunity for everyone and also for TEDxModena, to exercise innovation and creativity by finding new ways to do and be there.
In place of the usual annual event at the Storchi theater in fact, at the end of the Motor Valley Fest, on Sunday 17 May at 21:00 the TEDxModena team coordinated by the curator Fabrizio Bulgarelli, will webcast "Digital Evening Talks".
Digital Evening Talks is a panel discussion moderated by the journalist Federica Galli, consisting in 3 Q&A to 5 incredible speakers on the accelerated impact of "Fast changes" and on the prospects of mobility:
- Tommaso Ebhardt, Bloomberg News Director of Milan and writer (most recent book: "Sergio Marchionne"); for his magazine he followed some of the most important corporate operations worldwide and for over a decade he worked in the auto sector chasing Sergio Marchionne throughout the world during the long negotiation for the merge of Fiat with Chrysler and the listing of Ferrari at Wall Street.
- Teresio Gigi Gaudio President and CEO of Icona Design Group, Top manager with a long and successful career, who has directed several Italian and multinational companies, with extensive experience in the Far East. His experience has been developed in more than 40 years of activity in key positions, among which we remember C.E.O. by Stile Bertone S.p.A., C.E.O. of Coeclerici S.p.A., C.E.O. of Aprilia S.p.A., President and C.E.O. by Waste Management Italia S.p.A.
- Marco Fainello, mechanical engineer, formerly responsible for the Vehicle Performance Development of the Ferrari team and now Technical Director of Danisi Engineering, Mechanical Engineer, since 1990 he has dealt with cars, especially high performance and racing cars. He was part of the Scuderia Ferrari Dream Team contributing as Vehicle Performance Development Manager to the Ferrari Formula 1 victories of 14 world titles
- Luca Dal Monte writer, former Maserati communications director, Pirelli, was the head of Ferrari's External Relations in the United States: author of "La rossa e le altre", "A legend that continues", "The flying German and the Ferrari legend "And" La Scuderia "is his first novel
- Luigi Orlandini, Chairman of Canossa events, expert on events and races with historic cars, on which the accelerated impact of fast changes has opened up an ever more digital future to merge the passion for the history of engines with the digital revolution
Digital Evening Talks will be streamed on Sunday the 17th of May h. 21:00 onTeleRadioCittà and the social pages of TEDxModena:
TEDxModena Facebook - https://bit.ly/3fQhDye
TEDxModena LinkedIn - https://bit.ly/2zBXxr0
TEDxModena Instagram - https://bit.ly/3fNg2cH
Benötigen Sie
technische Unterstützung

für die Produktauswahl?
Wollen Sie ein

Angebot

anfordern?
Möchten Sie eine

E-Mail

senden?