MADE EXPO 2023: THANKS FOR COMING!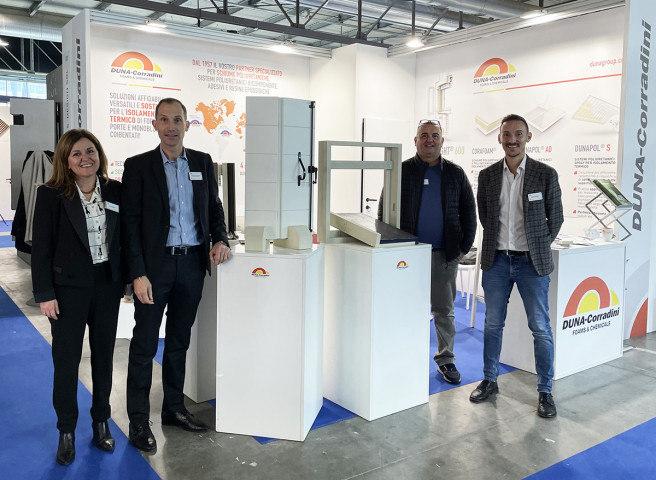 ---
21.11.2023
Sustainability and Innovation have been the key topics at MADE EXPO 2023, the international trade fair dedicated to the construction sector held from 15 to 18 November at Milan Rho Fiera. DUNA-Corradini had been exhibiting (Stand E34 - Hall 2P) as the Italian specialist in the production of polyurethane foams, formulated systems and adhesives for thermal insulation and structural reinforcement of window frames, doors and composite structures


Impossible for DUNA-Corradini to miss MADE EXPO 2023, the main Event for building sector just ended at Fiera Milano Rho (15-18 November). MADE MILANO proved to be a strategic opportunity to meet international construction professionals and present all the PUR solutions developed by DUNA for the Building world

A leading sector of the national economy, the construction sector has been focusing in recent years on Sustainability, Innovation aimed at energy efficiency and the living quality of buildings. The same goals shared by DUNA-Corradini, a recognised specialist in the production of polyurethane/polyisocyanurate foams and formulated systems for thermal insulation and structural reinforcement in new buildings and renovation projects.

On our Booth (E34 - Hall 2P) we presented all the DUNA solutions dedicated to the Building sector, designed to ensure excellent thermal insulation of windows and doors, composite panels and building structures, minimizing energy dispersion.

International professionals were caught by CORALIGHT®600, the new sustainable high-density PUR boards, made with over 85% polyurethane from upcycling of secondary processing products. Compliant with the CAM/GPP criteria and featuring excellent insulating and structural reinforcement properties, CORALIGHT® 600 represents the ideal solution for the manufacturing of high-performance window and door systems with low environmental impact. Available in boards and customized special pieces, CORALIGHT® is used to eliminate dispersion and thermal bridges in window holes, door and sliding systems, window sills, insulated roller shutters, thresholds, insulated monobloc systems.

On our booth at MADE EXPO we also exhibited numerous applications of the CORAFOAM® line, PUR and PIR foams for thermal insulation and structural reinforcement of door and window systems, sandwich panels and other composite structures. Available in a wide range of densities (35-600 kg/m3) and easily machined in boards and customized special pieces, CORAFOAM® foams are expanded with low environmental impact blowing agents to meet the new demands of sustainability, for same performance, of contemporary residential and commercial design.

To support construction and industrial sites of greater size and complexity, DUNA has also developed the DUNAPOL® S range, spray polyurethane systems for the continuous insulation and requalification of ceilings, walls, attics and all curved or irregular surfaces. The perfect adhesion to any substrate and the maximum speed and ease of execution ensure top-class result, preventing joints and thermal bridges.

DUNA range for the building industry is completed by the DUNAPOL® AD line, solvent-free structural polyurethane adhesives for construction and industrial use. Available in a wide range of formulations, single or two-component with adjustable reaction speed and variable rheology, DUNA adhesives are designed to ensure perfect adhesion to any substrate and support any application need

Reliable and recognized partner of the main Italian players of the world of Construction, Windows and Doors, DUNA-Corradini returns from MADE EXPO with a even greater motivation to pursue its Research path toward Innovation and Sustainability.

Thanks to all those who came visit us in Milan to get to know DUNA Team and products!
For those who missed the event, here our photo gallery