A brand new style with a 3D Sign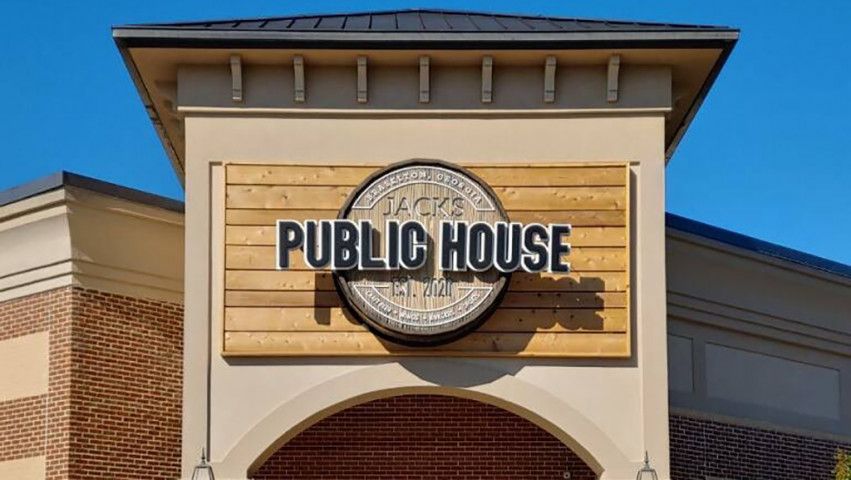 ---
The small community of Braselton, Georgia, a stone's throw away from the base of the Appalachian Mountains, is a burgeoning town largely comprised of members of the medical field. With a redevelopment plan in place to revitalize the downtown area and new businesses eager to set up shop, Braselton lives up to its motto: "A past to preserve and a future to mold."
Jack's Public House serves craft beers, burgers, and wings, and it is hoping to position itself as a staple in the community. The owner of the restaurant approached BestSignMonumnets.com to create a sign that captured the essence of what the restaurant was all about; laid back dining with an old world feel.

Wade Parker, owner of Bestsignmonuments.com, describes his company as a web-based business that services direct retail customers and is a one-stop shopping for signage. They cater to developers, property management companies, theme park, and similar style entities. They create front entrance signage (for business parks, neighborhoods, etc.) and environments (like the 2nd floor of the Georgia Aquarium). As with Jack's Public House, people go to them when they want something unique and "cool" but don't know how to execute production.
Wade started his career in signage in 1994, wholesaling dimensional signage out to all the national sign franchises. His business grew into a massive organization, and over time he has sold off pieces while keeping the parts that challenged him most – making the cool stuff. "I now have more time with my family, raising my children – for my most beautiful creations.
With this project, they delivered ballasts to the contractor working on the façade of the building to integrate in his work before we hit the drawing board. Now when they install, Wade will simply connect the sets of wires he requested to be left hanging. He was able to save the owner money on having an expensive mechanical timer put on his breaker box by integrating daylight sensors in the sign. It will now turn off and on with sunrise and sunset.
Once the electrical prework was out of the way, it was time to get started on creating the sign. This dimensional project began like all their projects, in Adobe Illustrator. They then hand carved and used MultiCam CNC tables to carve the CORAFOAM® HPT 35. Wade and his team used rubber cement to adhere the separate pieces of CORAFOAM® and EPS together then primed and painted the material.
Wade says, "The most difficult part of the sign industry is the pricing. Everything in every industry has gone up in price over the past decades EXCEPT the square footage market price of signage. We've had to literally invent new ways to combine new technologies and new materials to find profits. CORAFOAM® is a perfect example, and a product we'll continue to use for big outdoor signs with big dimensional effects." He continues, "CORAFOAM® was ideal for the particular project, especially with its scale. The sign measures 7' tall x 12' wide x 30" deep. Typical 15 pound per cubic foot density would have greatly exceeded the weight load on the facade." Typical EPS foam at 1 pound density can be hand carved with hot wire tools, but won't have the depth of machine routing effects. CNC Machining is both fast and accurate, but you can't CNC EPS – CORAFOAM® is the perfect solution."
The COVID pandemic left people wondering about the future of the sign industry, but Wade is hopeful. "People will want big signage that grabs attention from competition. Online sales are taking over brick & mortar retailers. This applies to signage as well. We've had great sales success in asking the honest question - "Do you want something really nice, or do you just want 'something?' The good news is there's lots of work for us all."
You can see additional information about Best Sign Monuments at: bestsignmonuments.com.