Drumming to the Beat with Octavia the Octopus: A Large-Scale Sculpture Comes to Life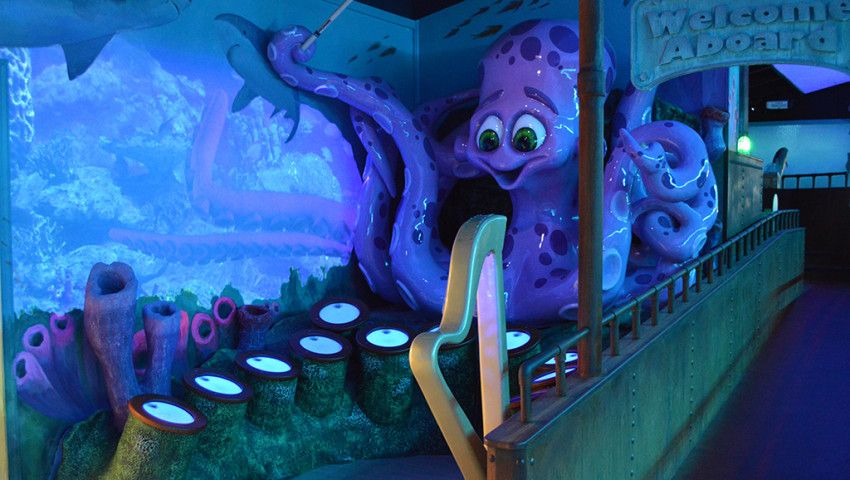 ---
Ruocchio Design, Inc. is a design firm specializing in fabricating high-end museum exhibits, signage, sculptures and more. Specifically, large-scale projects that have a high wow-factor to them.
Their most recent project is a perfect example of this. In what could possibly be christened the best potential drummer in the world, Ruocchio was commissioned to create a massive Octopus manning the drums for the Greensboro Science Center's underwater themed exhibit. Ruocchio certainly had their work cut out for them as the requested dimensions were 8 feet by 8 feet.
Peter Ruocchio and team used DUNA's CORAFOAM® R40 Prop Foam as their material of choice, fabricating it entirely by hand, an endeavor that took an entire week using various hand woodworking tools. The spectacular finish coat was applied by initially hard-coating the entire piece with fiberglass, and ultimately, after extensive sanding and body work spanning several weeks, finishing with Dupont base clear automotive paints. The fiberglass on top of the HDU foam makes the project extremely durable and will enable it to last forever.
According to Peter, "We chose to use the R-40 for this project in place of polystyrene due to its ease of carving and the fact that you can apply fiberglass polyester resin directly to its surface." Fittingly, the Octopus has been named Octavia, and currently calls North Carolina home, happily drumming away and occasionally indulging in nearby seafood.

Peter started his business as a freelance artist after he graduated from North Carolina State University over 20 years ago. Ruocchio Design is located in a 14,000 sq/ft facility in Wake Forest, NC and employs a talented firm of artists and fabricators. For additional information, please visit: http://www.ruocchiodesigns.com.