"Spirit of Christmas" 2016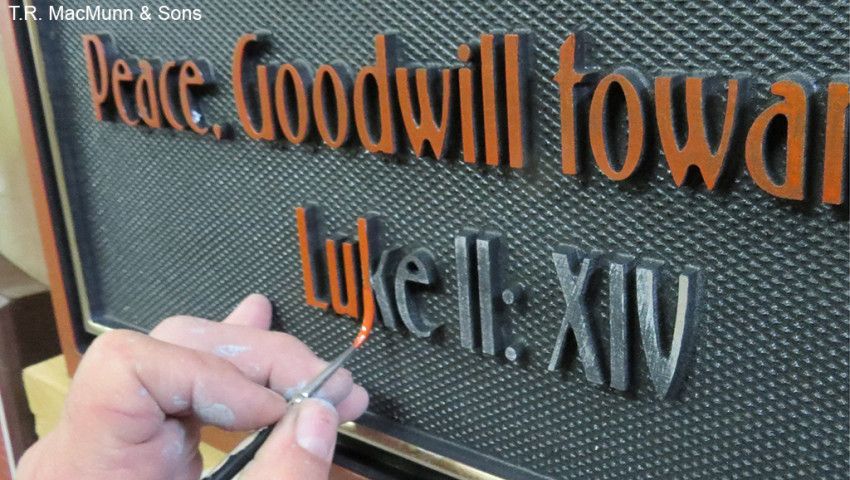 ---
This past Christmas season saw DUNA-USA implement its first-ever "Spirit of Christmas" sign contest, designed to give signmakers a chance to express themselves creatively in the form of designing and building a 3-dimensional sign with a Christmas theme. Ultimately the signs were donated to various charities including: The Ronald McDonald House in Chicago, Illinois, the Children's Hospital in Seattle, Washington, The International Child Art Foundation in Washington D.C., and Shriners Hospital in Houston, Texas. These charities displayed the signs throughout the Christmas season, and will also be donating them at auction. Please take a moment to review these beautiful entries and keep an eye out for a special feature in the February issue of Sign Builder Illustrated!
The following explanations were sent in by each participating signmaker explaining their entry and what the Spirit of Christmas means to them.

First Place Winner
T.R. Mac Munn & Sons
Christmas, the commercial aspect notwithstanding, is still for many, the time of year when we look forward to spending time with the extended family & friends. What could say it better than "Peace on Earth… Goodwill toward men"? it all started on a clear night in Bethlehem some two millennia ago. Collectively, we seem to be more caring at this time of year toward those less fortunate than ourselves. Wouldn't it be awesome if this seasonal benevolence could be maintained for the whole year?

Second Place Winner
North Woods Signs
We all know that sign artists are children at heart. Our sign represents the spirit of Christmas through a child's perspective. Anticipation often makes Christmas Eve the most exciting night in a child's whole year. Santa, his sleigh, the reindeer, and his bag of toys evoke feelings of magic, wonder, joy, and hope.

The gold leaf represents the sparkle in children's eyes, the sparkle of stars, and the sparkle of the season. We feel that our sign will put a smile on all kids faces - young and young-at-heart.

Third Place Winner:
Sundance Signs
We come up with design concepts everyday but being asked the question what does the Spirit of Christmas mean to you and then bringing to life through the art that we do was a challenge. Many ideas were discussed and concepts though through. The images of Christmas were easy to see but what it meant kept changing the direction of the design. A classic and traditional design concept is what we pursued and it seemed to fir the phrase we chose "Believe in the Magic of Christmas". This phrase fit the question being asked and can have many meanings to many people whether it used to think of Santa, giving and receiving, family or faith. The choice of a simple reindeer in Palladium fit the phrase and sentiment of the quote. A strong red was chosen for the background behind the gold leaf quote. The bevel edge carries a slightly darker red to help with the transition to a very dark almost black recessed border.

Artistic Signs:
When I was younger, Christmas was all about getting Hot Wheels cars and tracks. But as I have grown older with my family and friends, I have learned that the spirit of Christmas is about giving.
Over the years, I have been able to spend a lot of money and give some great gifts. But sometimes, when I had little money, all I could do is spend time with my family. Either way, it was a happy time.
In thinking of what to do for the spirit of Christmas contest, I remembered the story of the little drummer boy. He had nothing to give but himself and the talents God gave him. But, he gave all he could give, and to me that is The Spirit of Christmas.

Signs by Van
Christmas has always been such a mystery to me in that what we see with our natural eyes is so limited to what can be seen with the eyes of the Spirit. As any child can attest, when lights and sparkles and trees and relatives show up, magic happens! Music they have seldom or never heard and stories of Old Saint Nick or the Christ Child along with mangers and shepherds and wise men and angels. It's a wonder most never forget!
When asked if I would like to participate in the creation of something to be sheared with children less fortunate, I jumped on it! But what to create? There's so much to tell. And by the time I narrowed down the ideas, my time for actually doing the work grew abysmally small, I guess that's a nice way to say procrastination played a small portion in my time crunch.
So there it is, my hope is that this piece will encourage the kids to see who the real hope is in this season of wonder.

Synergy Sign & Graphics
The Spirit of Christmas to me is the spirit of hope. Hope is the goodness in people like Santa Clause, hope in family, and hope in our savior Jesus. When I was invited to enter the DUNA Spirit of Christmas contest, Hope was all I could think about.
13 years ago, my younger sister Caley, was admitted to Children's Hospital in Akron Ohio. Week later, she was diagnosed with stage 4 breast cancer at the age of 19. The entire time we spent in the Hospital with Caley was filled with HOPE. Hope that we could beat the terrible disease. That message of Hope was conveyed by the Doctors and Nurses throughout our entire stay. Caley never gave up HOPE. Caley has been gone for 13 years, but we still have HOPE. HOPE that we will see her again one day. The Blonde girl in our carving signifies Caley and her undying spirit that touched everyone. The star is a star of HOPE that we still carry with us today. The Tree is bending over to receive the star from her signifying that with HOPE, anything is possible.
I hope that our creation bring HOPE to other that see it. Without HOPE, we are lost.

The Great American Sign Shop
Prior to attending this year's international letterhead meet in Amsterdam, I took the time to visit some good friends in Germany. One of the sites they recommended was a little town in Bavaria famous for wood carving. While there I was fascinated by some 3d picture box dioramas depicting workshops of various kinds. Every profession from dentist to carpenter to auto mechanic was represented, all that is except a sign shop. When I was invited to participate in this contest, my assistant Glenn, came up with the idea of depicting an elf making a sign. This led me to remember that little shop in Oberammergau that chose not to represent our noble profession. Why that is I thought, why it is there is no Barbie and Ken Sign Shop or Marvel Superhero that is a sign maker by day and crime fighter by night. Why there is never a sign shop ever seen in any depiction of Christmas village. So I created a story of Santa's Sign Shop where all the misfit elves were sent, especially the ones with the tattoos and pony tails. It is not by accident that the sign shop has the worst sign in Christmas village or that the shop is messy and cluttered. This diorama depicts Santa's Annual Inspection and the Elves have decided to take a hike rather than endure another one of Santa's lectures. The entire piece is constructed of HDU with metal pins and glue with the exception of Santa and the one Elf that missed the bus and is desperately trying to catch any ride out of town. These two characters are composed of Magic Sculpt epoxy over an HDU core.
I hope you enjoy our presentation of Only Good Elves Get to Work in the Toy Factory. Thank you for taking the time to judge this competition.

Haffner's Fantastic Creations
My earliest memories of childhood Christmas revolve around the concept of Santa Claus. A jovial gift giver who travels the world bringing joy to children of all ages. While not a religious symbol, he evokes the spirit of empathy, sharing, giving and happy satisfaction in those endeavors. I modeled the face roughly with the intention of doing some 2 part epoxy sculpting once it was carved on my CNC machine in separate slices. A combination of glaze work and metallic paints help bring this kind elf to life at roughly 22" long and Almost 9" thick.

Countryside Signs:
While still undecided what to choose as a theme, the concept of our designs occurred to me when Kazzie, my 6 year old grand daughter posed the inevitable question of the reality of Santa. That set me to thinking that belief is the really basis of it all.
Christmas is believing. Our design is based on that premise. We wanted a design with a classic, old fashioned feel. The religious, faith based true meaning of Christmas, the birth of Christ must be most prominent aspect. Starting with the Star of Bethlehem and the Nativity, the design transitions to a more modern scene depicting a typical Night before Christmas room, referencing a passage from the famous poem on the pages of an open book.
While the real magic is often lost in the hustle and bustle of commercialism, only Believers know the simple, pure Joy of Christmas.
Our multi media design combines router cut shape and main lettering, hand tolling, hand carving, hand painting. One Shot, acrylic latex house paint and glazes, Matthews Polyurethane sprayed finish/clear coated main copy, 22k Real gold with polyurethane doming(for Believing script) ¼" PVC(for dimensional outlines) AMC inlays. Fonts used are of our own design.
DUNA-USA is honored to have had such talented craftsman participate and spend their valuable time creating these entries. We feel that the true success of this contest lies in the big picture view of all the entries grouped together, encompassing a little of what Christmas means to all of us.