New industrial system for the application of vapor barriers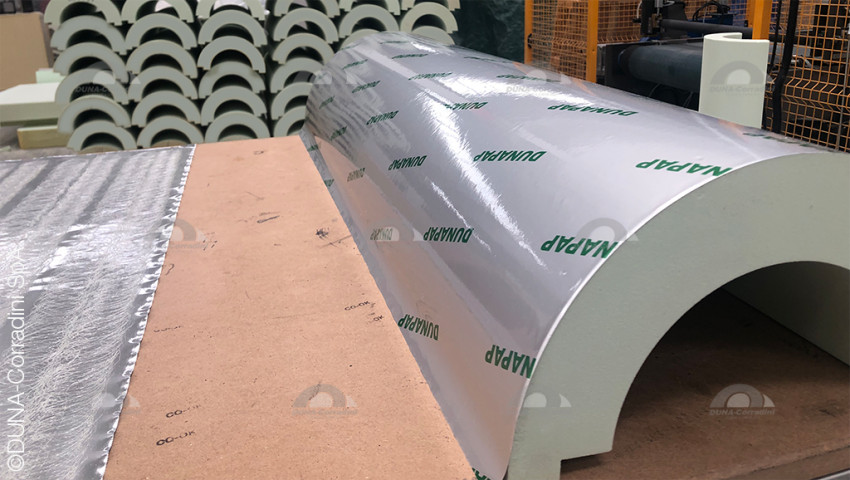 ---
16.07.2021
The new equipment for the application of the DUNAPAP vapor barrier, entirely designed and built by the DUNA team, has been inaugurated.

Completely conceived and designed by DUNA-Corradini, the new equipment for the application of the DUNAPAP vapor barrier accelerates the gluing operations of the membrane on the CORAFOAM® item and perfectly regulates the distribution of the adhesive on its surface. This translates into an hourly productivity more than doubled, in line with the needs of construction sites, increasingly demanding in terms of flexibility and delivery speed, and in energy consumption reduced by 50%.

The strict control of the gluing process allows a perfect adhesion between the two materials and, consequently, an increase in the efficacy, quality and aesthetics of the product, above all guaranteeing the seal of the adhesive even in the event of strong temperature variations, such as in the case of sea freight. This aspect was found in the context of an extensive test campaign according to the ASTM D 6862 standard (*), which demonstrated how the tightness of the vapor barrier has substantially doubled compared to the previous values, already fully compliant with all international specifications.

This investment is part of a much larger project, aimed at the 360° enhancement of the Special Processing division and concludes the investment plan in this area inaugurated in 2018.

The new DUNAPAP application equipment is mainly aimed at the Energy, Oil&Gas and Cold Chain markets on the entire international stage, in particular for those pipes insulation components suitable for LNG transport and storage, which requires not only an extremely performing insulating material, capable of keeping the gas at a temperature of -165°C, but also additional protective barriers that inhibit the entry of vapor into the insulating layer and therefore risks of condensation or ice that can lead to cracks and breaks in the layers.

In addition to the technical and logistical needs of the market, the new system for the application of DUNAPAP meets the most stringent and current requirements of ergonomics and digitalization.
"Designing machinery according to the emerging needs of the market and tailor-made for your company requires engineering to embrace a wider scope including needs of end users and manufacturing, whose needs become essential" reports Davide Campolongo, Project Manager and R&D Equipment & Instruments Manager, who conceived the machine and guided its design up to its construction and installation.

The project is the perfect synthesis of all the targets that DUNA-Corradini has always pursued: technological innovation, highest product and service quality, efficiency, flexibility and care for the environment and safety.

(*Standard Test Method for 90 Degree Peel Resistance of Adhesives)
Benötigen Sie
technische Unterstützung

für die Produktauswahl?
Wollen Sie ein

Angebot

anfordern?
Möchten Sie eine

E-Mail

senden?