---
The DUNA-Group represents a specialized Partner for industrial cold and cryogenic insulation, thanks to decades-long expertise in PUR/PIR foams and formulated systems' production, constant R&D investment and state-of-the-art technology.
With its Italy-based Headquarter DUNA-Corradini SPA and the international outposts DUNA-Emirates LLC FZC and DUNA-USA Inc., the Group commits to support the most challenging LNG, LPG, fertilizer, refinery and petrochemical projects worldwide.
Thermal insulation represents a critical factor for cryogenic plant and pipelines' efficiency, and operation continuity, reducing operating costs due to energy losses, while materials' fire reaction performance plays a key role for insulated systems' safety at extreme operating conditions.
Rigid polyurethane/polyisocyanurate foams and formulated systems are the ideal solution for LNG, LPG and other industrial applications where extreme operating temperatures are to be maintained with minimum heat gain and relevant structural properties are required. Among key PIR/PUR technical properties: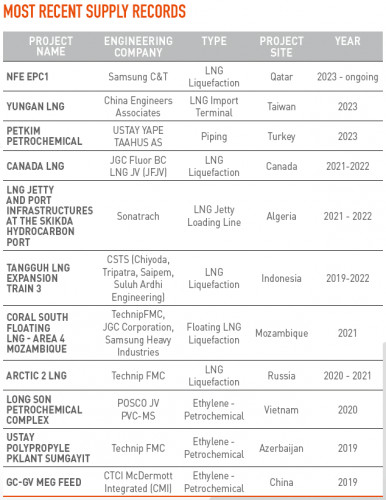 LOW THERMAL CONDUCTIVITY: minimum heat conduction and no thermal bridges.
OPERATING TEMPERATURES: from -200°C / -328°F to +65°C/+149°F (PUR) and up to +120°C/+248°F (PIR).
MECHANICAL STRENGTH: excellent strength-to-weight ratio for insulation integrity.
THERMAL STRESS RESISTANCE: CTSR compliant with CINI 2.7.01 requirement.
CHEMICAL RESISTANCE & COMPATIBILITY: resistant to chemicals, solvents and oils while compatible with most adhesives and mastics.
FIRE REACTION: all PIR/PUR foams by DUNA meet the most stringent fire protection standards and are classified Euroclass E (EN 13501). All our PIR foams are ASTM E84 Class A and ASTM D3014 complaint.
SUSTAINABILITY: all DUNA solutions are blown with environmentally friendly blowing agents (NO CFC/HCFC/HFC), having Ozone Depletion Potential = O and Global Warming Potential <1.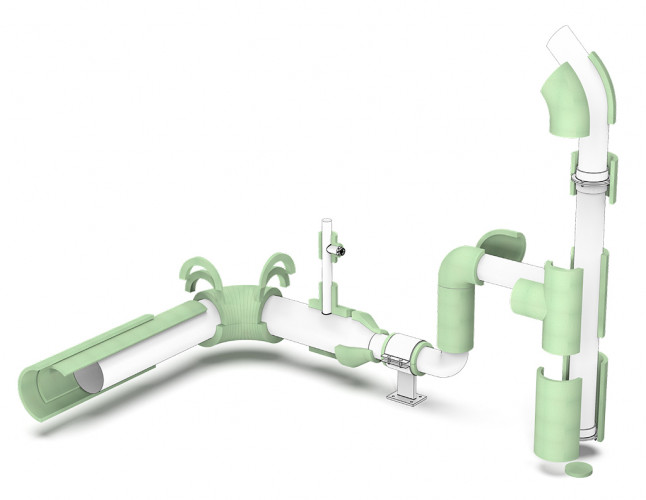 The DUNA-Group provides a complete range of PUR/PIR foams (CORAFOAM®), formulated systems and customised solutions to provide thermal insulation and structural reinforcement to multiple cryogenic industrial applications (es pipe insulation, pipe supports, thermal breaks, land storage tanks and cargo tanks..).
CORAFOAM® comprises all rigid polyisocyanurate and polyurethane foams manufactured by DUNA through its proprietary continuous-foaming technology and available in blocks, trimmed blocks, boards and three-dimensional special parts (DUNAPIPE), tailor-made by CNC routing to meet the most demanding design needs.
CORAFOAM® PB and RTS are the cryogenic-grade PIR foams, with low (from 35 to 50 kg/m³) and high density (from 60 to 320 kg/m³) respectively, combining best fire reaction performance with high-end insulation property.
Committed to maximum products' sustainability, the DUNA-Group developed the new CORAFOAM® PB BIO line, the new PIR foams made up to 70% of carbon from renewable sources. DUNA managed to reduce up to 40% foam carbon footprints without compromising on the insulation and technical performance, equivalent to traditional CORAFOAM® PB foams.
CORAFOAM® MD, the high-density polyurethane foams (from 80 to 600 kg/m³), are typically used to fabricate large pipe-supports and thermal-break elements.
All our CORAFOAM® special pieces (tees, pipes, flanges, valves, elbows and reducers) can be monolithic or multilayered, butt-jointed or ship-lapped, and, upon request, coated with DUNAPAP secondary vapour barrier to prevent water-vapour transmission through the insulation layer.
In order to support any cryogenic applications' requirements, DUNA has also developed a comprehensive range of formulated systems, available in customised formulations to match the specific industrial requirements. DUNAPOL® C, the insulating injection PU systems for thermal insulation through on-site injection, are suitable for pipe supports' manufacturing (high density formulations) and for insulating valves, flanges, pipes, tanks and other equipments (low density systems). DUNAPOL® S, the spray PU systems for seamless insulation of tanks and naval lines, are conceived for either horizontal and over-head application. DUNAPOL® SPINPIPE & DUNAPOL® S 050 RP are the first PIR systems for cryogenic pre-insulation, creating a seamless insulating layer by pouring or spraying on rotating pipes. DUNA provides also DUNAPOL® AD, solvent-free PU structural adhesives suitable for applications at cryogenic conditions, available in customized formulations from thin liquids to thixotropic pastes.
Finally, for the most challenging and large-scale cryogenic projects in faraway locations the DUNA-Group has developed PEGASUS, mobile foaming lines able to produce CORAFOAM® PIR foam blocks within the space of 4 containers. A PEGASUS line can be shipped and transported on customer's site to produce large quantities of foam, saving huge transport costs: DUNA technical Team takes care of the Unit installation and the entire production process, assuring constant supervision and strict quality control.
Download the Cryogenic Catalogue to discover all DUNA solutions designed for industrial applications at cryogenic temperature.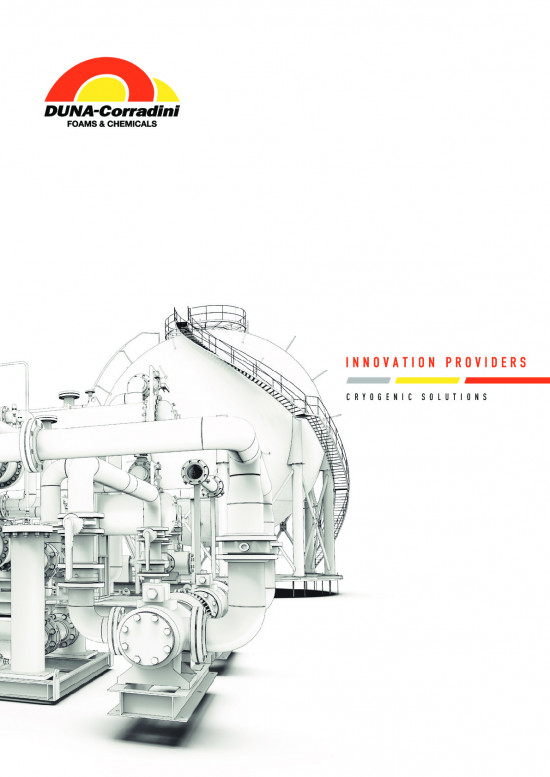 CORAFOAM®
Density (kg/m³)
Initial thermal conductivity at 10°C (mW/mK)
Parallel compressive resistance at 23°C (MPa)
Fire behaviour
Operating temperatures (°C)
EN 1602
ASTM D1622
EN 12667
ASTM C 518
EN 826
ASTM D1621
PB 35 M1-HC
35,0
20,9
0,3
DIN 4102 Class B2
EN 13501 Euroclass E
-200/+120
PB 40 M1-HC
40,0
20,9
0,3
DIN 4102 Class B2
EN 13501 Euroclass E
-200/+120
PB 45 M1-HC
45,0
20,9
0,4
DIN 4102 Class B2
EN 13501 Euroclass E
-200/+120
PB 50 M1-HC
50,0
20,9
0,4
DIN 4102 Class B2
EN 13501 Euroclass E
-200/+120
PB 35 M1-HC BIO
35,0
20,9
0,3
DIN 4102 Class B2
EN 13501 Euroclass E
-200/+120
PB 40 M1-HC BIO
40,0
20,9
0,3
DIN 4102 Class B2
EN 13501 Euroclass E
-200/+120
PB 45 M1-HC BIO
45,0
20,9
0,4
DIN 4102 Class B2
EN 13501 Euroclass E
-200/+120
PB 50 M1-HC BIO
50,0
20,9
0,4
DIN 4102 Class B2
EN 13501 Euroclass E
-200/+120