CRIBIS ACKWNOLEDGES DUNA RELIABILITY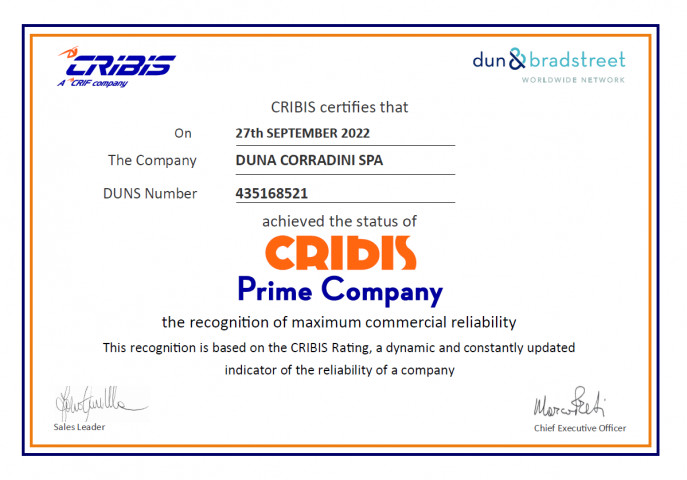 ---
02.11.2022
Again this year, DUNA Corradini has been awarded the CRIBIS PRIME COMPANY, the international recognition of the reliability level of a Company in B2B commercial transactions. This Certificate demonstrates DUNA commitment to the actual implementation of its Corporate Code of Ethics towards all its Stakeholders.



Once again, CRIBIS D&B, the Company specialized in Business Information provision on Italian and Foreign Companies, has awarded DUNA-Corradini the CRIBIS Prime Company recognition, attributing the highest level of reliability as a counterpart in a Business to Business commercial transaction. DUNA Corradini has this recognition reconfirmed every year, demonstrating its fairness and timeliness in behavior and payments toward suppliers.

The CRIBIS Prime Company is an important and significant recognition, given that every year it is awarded on average only 7% of the more than 6 million Italian companies. CRIBIS D&B assigns this certificate through the application of the CRIBIS D&B Rating, a synthetic indicator based on a statistical algorithm that measures the probability of a Company to generate serious commercial defaults. To calculate this index, CRIBIS takes into account multiple variables, including master data, market indicators, balance data sheet, company seniority, payment experiences, negative background or pending litigation.

In a period of great challenges and uncertainties for Companies and Professionals, DUNA considers it essential to constantly engage in the creation and maintenance of quality commercial collaborations, thus giving actual implementation to its Corporate Code of Ethics. Adopted for the first time in 2014 and recently updated, the DUNA Code of Conduct is a voluntary internal Regulation issued by the Shareholders and Board of Directors to indicate the values and principles that must guide all Company processes every day and inspire the decisions and behaviors of all DUNA Collaborators towards all Stakeholders.

The CRIBIS Prime Company recognition demonstrates the effective implementation of the DUNA Code of Ethics and is a guarantee of reliability and transparency for our International Business Partners.

"I have always believed that only by respecting others can we earn the respect of others, that transparent, ethical and consistent behaviors are the basis of a healthy management of business activities and relationships. I believe indeed that this must apply both in the business world and in private life, so that the foundations of every relationship, professional or personal, remain strong and allow mutual growth with respect for everyone" said Marta Brozzi, President and CEO of DUNA "The desire to grow and create value in an ethical, lasting and sustainable way, in compliance with the Law and the protection of People, Employment, relations and the Environment led DUNA to issue its first Code of Ethics already in 2014 and then update it in 2021, so that, perfected in its principles and processes, it can further strengthen the trust that our stakeholders place in our Group"